Singing in Paradise : Joanna Weinberg – 1 – 8 June, 2024
per person
Special Offer:
Book before December 1, 2023 – and receive a $250 discount.
Singing in Paradise
Singing in a group is a glorious experience – vibrant, fun, uplifting. Joanna's choirs are well known for their joyful dynamism. She plans to bring a group to Fiji to learn and sing together, and to share their songs with a couple of Fijian villages.
During the week we'll learn some Fijian somgs, and then perform a concert for the local community at the end. In between, Joanna will take the group to visit a couple of nearby villages to hear their choirs, and to sing with them for the sheer joy of it. Fijian singing is renowned for its fabulous four part harmonies, and the villages welcome visitors warmly.
When we're not singing, there will be time for local excursions – snorkeling the amazing reefs, visiting waterfalls, exploring the nearby town of Savusavu, and relaxing by the pool.
Join us for a marvelous week of song, fellowship and new experiences.
Summary & Pricing
Title: Singing in Paradise
Dates:  1 – 8 June, 2024
Style: Choral singing
Programme: Daily morning workshops; afternoon excursions and free time.
Excursions and extras: All meals, and excursions as listed in the programme.
Food: Mixed menu.
Itinerary:  Arrive Savusavu Saturday. Course startsSunday, end evening Friday. Depart Savusavu Saturday morning.
Accommodation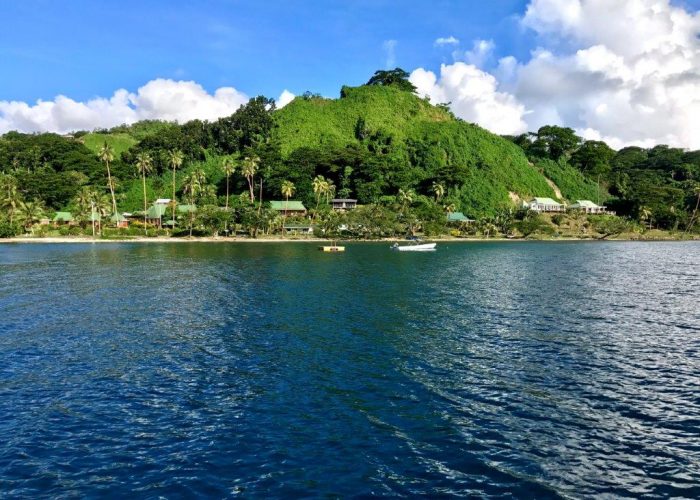 You'll stay with us at Daku Resort, Fiji.
Accommodation is packaged with your course: we are offering a choice of standard rooms in our rear bures, or ocean view bures at the front .We have a number of two and three bedroom houses and villas so if there are a three or four of you coming together, we can quote you on those.
More Information
Additional Adventures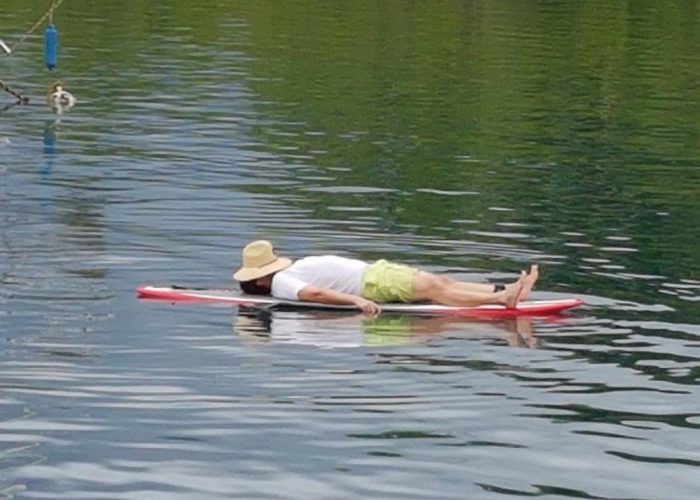 What to do in your free time.
We've arranged a number of excursions as part of the course (see Programme tab on the menu bar above). We also offer a range of other activities inside and outside of Daku Resort (please note that unless they are part of the programme, some activities, such as massages and those requiring equipment hire, may have additional costs).
More Information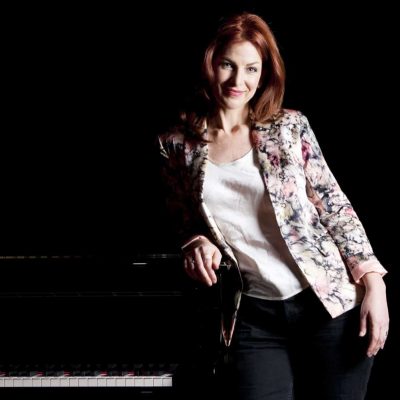 Meet Joanna Weinberg.

Joanna Weinberg was born in London to a family of classical musicians. She spent her young adulthood in South Africa where she played leading roles in several plays, films and tv shows before emigrating to Australia in 1997. She studied drama at the University of Cape Town and has spent three decades creating and performing musical theatre and cabaret as well as film .
A prolific writer, in the last five years alone she has created, recorded and performed in the cabaret shows 'Pandora's Bag,' (Hayes Theatre Cabaret Festival ) 'The Piano Diaries,' (Melbourne Cabaret Festival) and 'Baroness Bianka's Bloodsongs, (Hayes Festival ) all of which were critically acclaimed and have travelled widely. Joanna's work typically features strong and complex female characters- a trait which developed during her acting days when she was bored by the two dimensional parts available for women. Her musical about IVF – 'Lifeforce – the Mother of all journeys, ' directed by Lisa Freshwater , won the Sydney Fringe best musical in 2013 and the film ' Goddess, ' based on her one woman show 'Sinksongs,' directed by Mark Lamprell, proved popular with audiences worldwide and earned her a Critics Circle nomination for best music in a feature film. Joanna directs cabaret shows and theatre shows in Sydney and occasionally takes on unusual singing students. Her most recent musical play The Secret Singer showed at the Eternity Playhouse in Sydney and has been picked up for touring in 2020. In 2019 Joanna will premiere a new work satirising the contemporary art scene – "Minky gets a gallery" starring emerging talent Jodine Wolman.
Joanna directs three community choirs, Choir Rocks in Miller's Point, Baysingers at Mosman Rowers and The Cleftomaniacs in Waterloo.
Included

Accommodation

All Workshop Fees

Dining & Meals

Lectures & Excursions

Transfers from Savusavu Airport

Not Included

Alcoholic Beverages

Equipment & Supplies

Flights/Travel

Non-Course Activities

Travel Insurance
Arrive in Savusavu.
6.00 pm Traditional Fijian welcome ceremony
7.00 pm Dinner
9am - 12:30pm: Workshop
1pm: Lunch
Afternoon: Free time for snorkeling , relaxing.
7:00pm: Dinner and informal singing
9.00 am – 12.30 pm Workshop
1.00pm Lunch
Visit from local craftswoman and tapa making demonstration followed by trip to Savusavu Town to see local market and shops. We'll take you there in a taxi, and then leave you to wander around and find your own way back (taxis cost approx F$4.60).
6.30 Talk on J Hunter Pearl farm, the local black pearl farm - illustrated talk with slides
7.00 pm Dinner
• 9.00 am – 12.30 pm Workshop • 1.00 LunchAfternoon: visit to local village : meke (traditional dance) and singing with village • 7.00 pm Dinner
• 9.00 am – 12.30 pm Workshop • 1.00 pm Lunch •  2.00 Trip to waterfall. • 7.00 pm Dinner
• 9.00 am – 12.30 pm Workshop: • 1.00 pm Lunch • Afternoon: Beach picnic • 5.00 pm Visit to Savusavu Yacht club for a sundowner • 7.00 pm Dinner
• 9.00 am – 12.30 pm Workshop: • 1.00 pm Lunch • Afternoon: Free time for optional activities • 5.00 Community concert • 7.30 pm Final lovo dinner
Breakfast and departure.Fly from Savusavu back to Nadi International flight home.Check-out time is at 10.00am but you are welcome to leave your bags in reception.
Tour Location
Daku Resort, Fiji
Paradise Courses is hosted at Daku Resort, which is in Savusavu, Fiji.