Paradise Courses – fabulous retreats in Fiji
A week of learning and relaxation to inspire you…wrapped up in a holiday.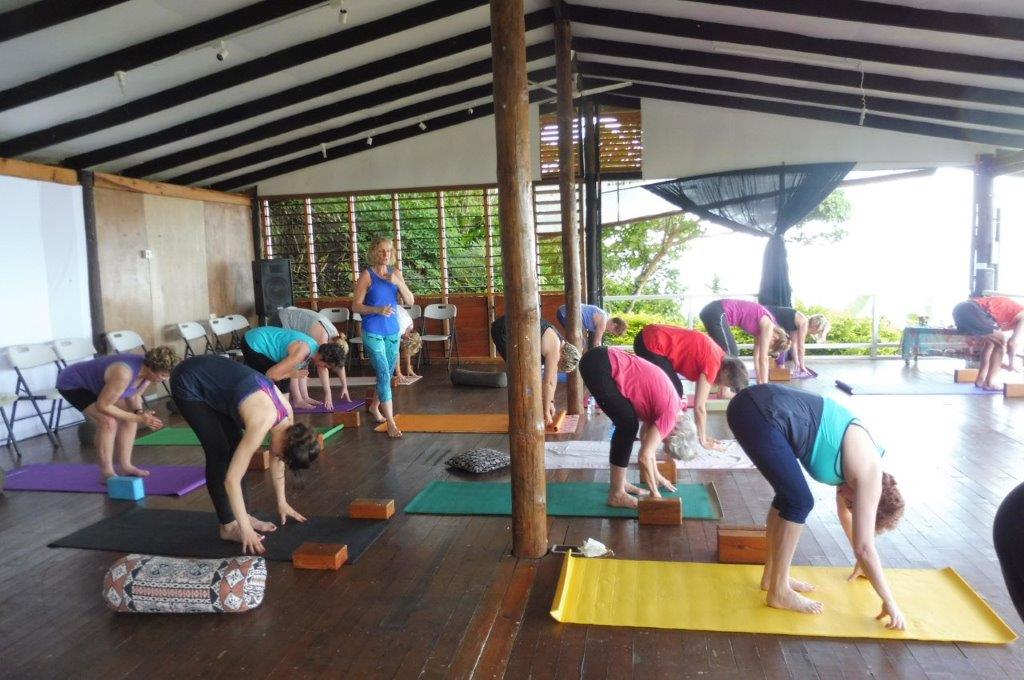 Stunning locations, sweeping views. A passionate teacher who works with you every day. Fellow painters to share your triumphs.
Your practice takes place in our yoga shala with its breathtaking views of the palm trees and the bay – a place of deep tranquillity.
A glorious week of a capella singing; both with others – and with a local Fijian choir, ending with a concert.
See the famous soft corals of Fiji, swim amongst clouds of sergeant majors, and and see sharks, rays and turtles.
This is an eclectic page where we've put in all our other courses – birdwatching, an Oxbridge alumni week and anything else that crops up.
Here's a list of all courses by category.
Delia Rothnie-Jones
Rachel's Choral workshop in Fiji is a joyous week in a beautiful location: a feast of workshops wrapped up in a holiday in Fiji. In the mornings, everyone comes together to learn and practice songs in 3 and 4 part harmony, singing from Rachel's collection of contemporary Australian, gospel and world music songs.
Other adventures –  Oxbridge Alumni forum, Birdwatching, Cycle Tours
Delia Rothnie-Jones
A trip run by Escape Adventures, a small dynamic New Zealand company with destinations all over the world. The Fiji Islands 9 day cycle tour is a fascinating journey through rural Fiji, encountering lush rain forests, mountains, beaches and the unsurpassed hospitality of Fijian villages.
Delia Rothnie-Jones
A gathering of Oxbridge alumni from all around the world – USA, UK, Australia, New Zealand, Hong Kong and Fiji for our fourth long weekend Fiji forum. It's a it's a rare opportunity to hear people with a lifetime's experience in their field lay out some parts of their knowledge. It makes for a rich cross-referencing of thoughts and ideas in much the same way as we once did in the JCR or in late night discussions in our own rooms at college.
Delia Rothnie-Jones
Birdwatching in Fiji offers the opportunity to see a number of tropical birds in their natural habitat. Our island, Vanua Levu, is home to a large number of birds, including the rare silktail which is found in the eastern end of the island.
At a glance…..
Courses length: one week : 7 nights (unless otherwise stated)
Prices from Aus$1950 for painting/singing/writing; $1750 for yoga; $1300 for guided snorkeling
Includes accommodation, meals, excursions and course fees
Excludes flights/ items of a personal nature eg drinks, laundry, travel insurance
Teachers from Australia / USA / New Zealand
Daily workshops
Excursions to see local sights and culture
Location: Daku Resort in Savusavu, Fiji
Dates: Look at our timetable of courses for the year and find one to suit your travel dates
What you'll experience.
We have a reputation for offering excellent week-long courses, taught by experienced and committed teachers from all over the world.
The week at Daku offers you  the opportunity to take time to learn fresh and exciting approaches in your field – time free from distractions and daily routine so you can…
relax into the beautiful surrounds of Daku Resort
be with like-minded people, share your interest, encourage each other's progress, laugh and have fun…..
and come away with memories of a life-changing week in paradise.
Solo traveller?
Welcome! Most  people come to the course on their own, so you won't be short of company.
If you want a shared room, we'll match you up with someone; if we don't have the right numbers, then you still get a room at the twin shared price – there's no extra fee.
Travelling with someone not doing the course?
We have a reduced rate for friends / partners / spouses who are coming for the week but not doing the course.