The beautiful unending journey : Pat McKenzie – Oct 26 – Nov 2, 2024
per person
Fijian Watercolour Magic
A week of sketching and painting the excitement of the detail of the surroundings or the grandeur of the landscape.
Early Bird Special Offer:
Book before April 30 2024 and receive a $200 discount.
When you make your booking, we will confirm receipt of payment of your deposit and will apply the early bird special to your final balance of payment invoice.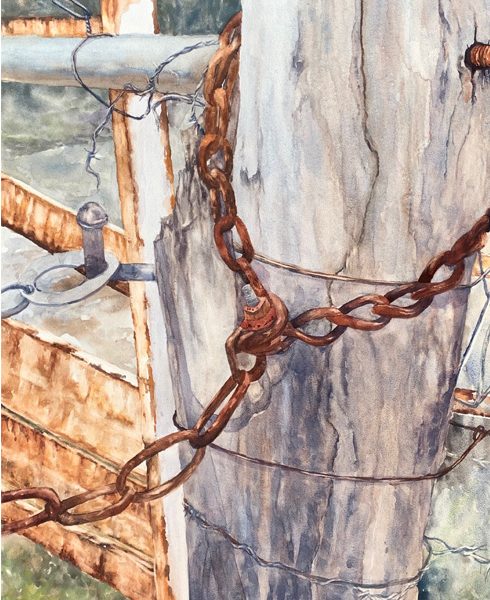 Price includes:
Daily workshops with Pat McKenzie with personal attention
Accommodation – choose from our bures at the front (Ocean View bures), or at the back (standard rooms) – or ask us about our two bedroom villas.
Meals : breakfast, lunch and dinner – a mix of local Fijian and Indian food and international recipes
Excursions:  snorkel on the fabulous coral reefs, bathe in glorious waterfall, revel in the abundant nature of the landscape and experience the rich Fijian culture.
You just need to buy your air ticket and art materials, and leave the rest to us.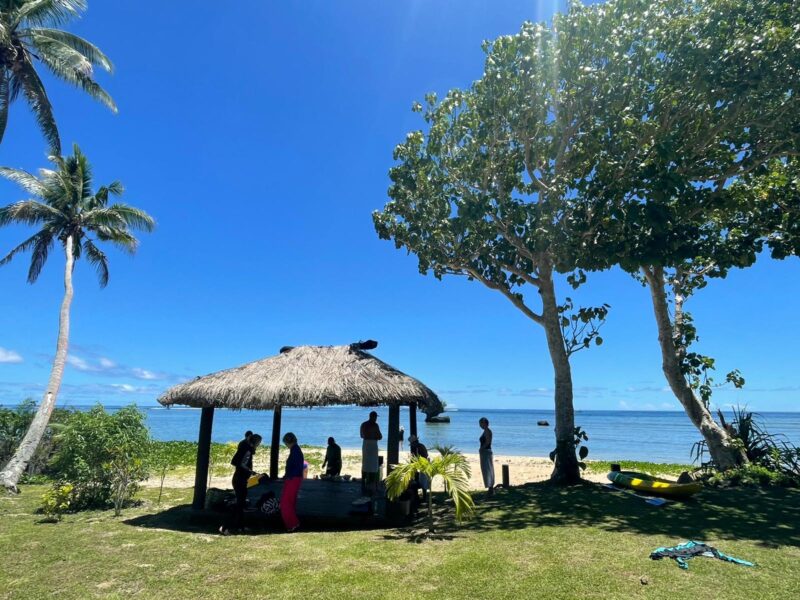 Overview of the week's course
The course offers an intensive tuition in various aspects of watercolours, using both demonstrations and one-on-one attention to the individual painting of each student. Pat focuses on finding what subject matter appeals to a student and then guiding them to discover how best to approach it. Pat has the belief that "painting should always be about the joy of it," – and within that, she applies the lessons of technique. Subject chosen will be aimed  at learning or improving techniques and will cover how much paint to mix with the water, composition, values, colour mixing, brush techniques and whatever else might come up.
Each morning is spent in a three hour workshop painting and creating, We will do some of this in the comfort of Daku Resort's Yoga Shala with its breathtaking views over Savusavu Bay, but at other times we will go out on location to various parts of the island to see the Fijian countryside, beach, villages, and people. All of this makes for rich painting subject s.
The aim is to come away with at least one finished watercolour painting per day to serve as a memory of a week of Fijian Watercolour Magic!
The workshop is suitable for artists of all standards.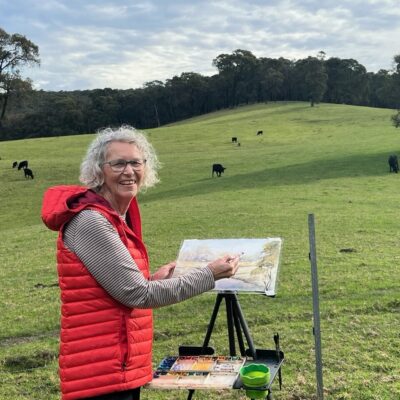 Meet Pat McKenzie.

Pat McKenzie has been a professional artist since 2000.  She attended workshops from some of Australia's'  foremost professional artists working in oils, pastels, watercolours and acrylics . She really developed her skills in how to use colours by painting "en plein air", trying to portray nature in all its moods.
Living in Aireys Inlet only 5 mins from the famed Great Ocean Road in Victoria (Australia), she is surrounded by inspiring cliffs, beaches, animals, and national parks which all become subjects for her hungry palette and open mind.
"Once you start, then you are taken along on this beautiful unending journey where the quest for that masterpiece never ceases. Through this quest you meet so many wonderful artists along the way who all add to that journey and which now brings me to Fiji."
She has won many awards for her paintings in oil, acrylic & watercolour and many paintings now hang in private collections in Australia, the UK, France, Italy, USA, Germany and East Timor. She has painted in France, Santorini, Turkey, Japan , and within Australia the Kimberleys, Kakadu, and Cape York.
Pat finds great joy in teaching. The progress each student makes is very satisfying to her and her patience and eye for beauty make for memorable creations.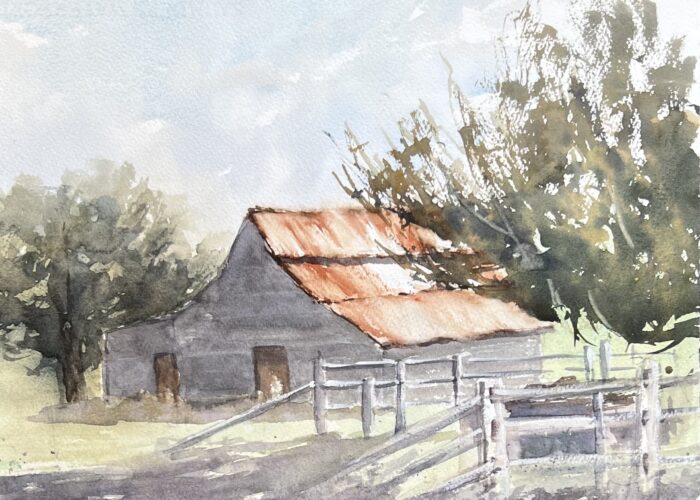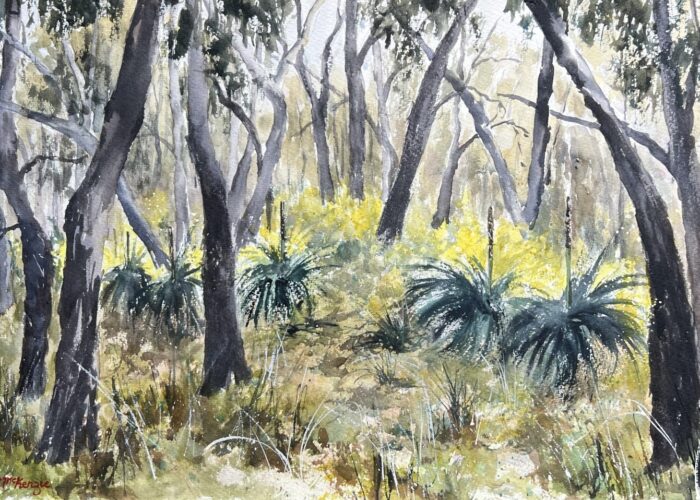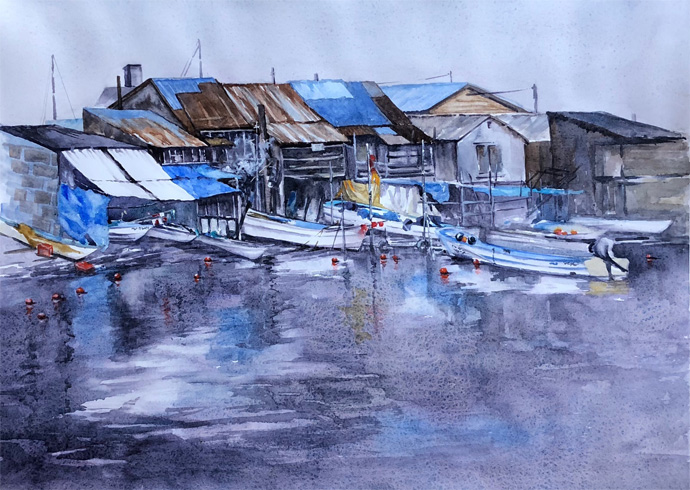 Summary & Pricing
Title: A Painted Diary: watercolours
Dates: October 26 – Nov 2, 2024
Style: Watercolours
Programme: Daily morning workshops; afternoon excursions and free time.
Excursions and extras: All meals, and excursions as listed in the programme.
Food: Mixed menu.
Itinerary:  Arrive Savusavu Saturday. Course starts Sunday, end evening Friday. Depart Savusavu Saturday.
What To Bring
Paints
Artist quality watercolours – Holbein are good value and consistent colours, Winsor & Newton, excellent (but expensive), Rowney, try not to use Art Spectrum.
These are all tubes, so a palette with a lid is preferable.
If you have a small travel palette with the colour already in it, that's OK, but difficult to make larger washes from.
Keep your colours to a minimum as you will have to carry them, although not far, so watch the weight.
* Cobalt blue
* Ultramarine blue
* Cerelean blue
* Rose Madder or Alizarin Crimson
* Raw sienna
* Burnt sienna
Thalo Green or Winsor green
* Aureolin or Cadmium Yellow pale
* Australian Turquoise
* Burnt Umber
Brushes
A small Hake brush is terrific for washes
Hake wash brush (1 1/4 ")
"Size10 Neef 970 Taklon round (Very affordable)
Size 8 Neef 970 Taklon round
Size 1 Neef 970 round
Neef ¼" Flat
small liner (about 2")
Don't bring your expensive brushes as they are easy to loose, even Bunnings brushes are suitable and inexpensive.
Small sketch book
Black waterproof pen
Paper
Arches or Fabriano 300gm rough or cold press
Paper blocks are good to carry about A4 size or slightly larger
Please make sure your paper is at least 300gsm.
Palette
Masking tape
Backing board if using sheets of paper (there are backing boards at Daku)
rag
2B pencil
Kneadable rubber
A backpack or something to carry it all in.
Accommodation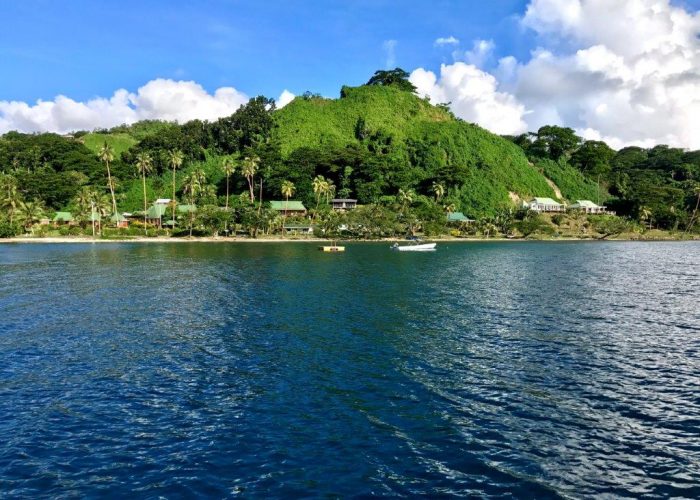 You'll stay with us at Daku Resort, Fiji.
Accommodation is packaged with your course: we are offering a choice of standard rooms in our rear bures, or ocean view bures at the front .We have a number of two and three bedroom houses and villas so if there are a small group, we can quote you on those.
More Information
Additional Adventures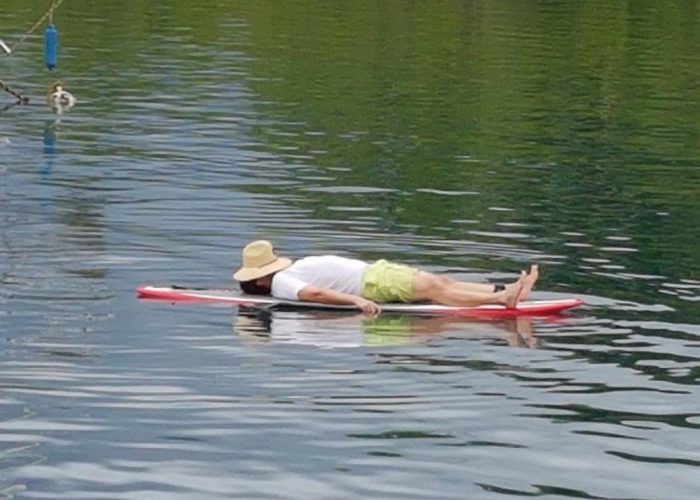 What to do in your free time.
We've arranged a number of excursions as part of the course (see Programme tab on the menu bar above). We also offer a range of other activities inside and outside of Daku Resort (please note that unless they are part of the programme, some activities, such as massages and those requiring equipment hire, may have additional costs).
More Information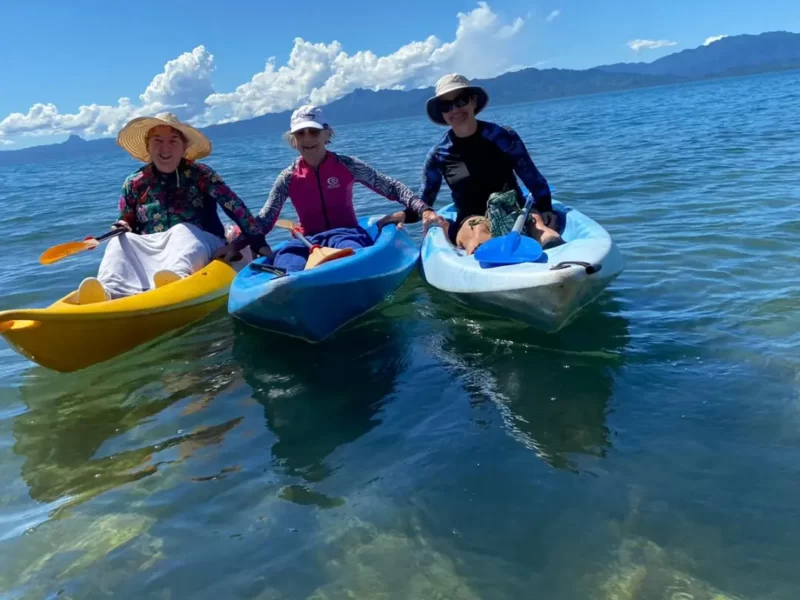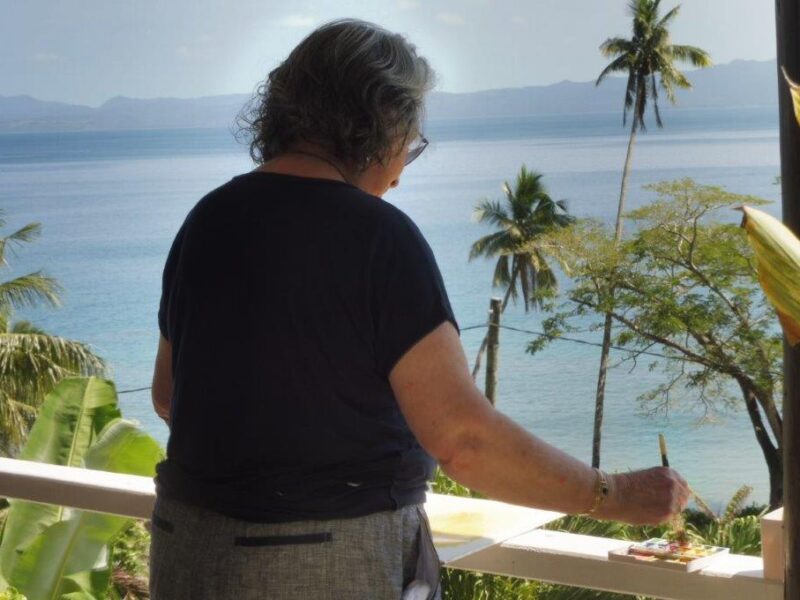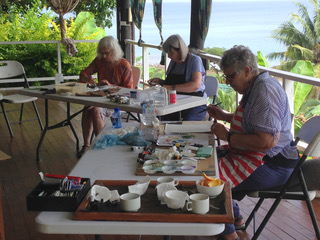 August 2018, just prior to my 70th birthday, for the first time in my life, I enrolled in a watercolour class at the Torquay, Community House.
Pat McKenzie was our facilitator and during the five years which followed, Pat's teaching and mentoring have provided me with an enjoyment I never imagined.
I encourage you all to try it just once. You never know what you will discover about yourself.
Geoff Morgan
Pat McKenzie has been my watercolour tutor now for about 5 years. I have learnt many techniques during this time including brush marks, composition, and color mixing all of which I have really enjoyed. Sometimes watercolour can be very frustrating, however Pat's patience and careful explanations always seem to get me through.
Janyne Rees
Our location : Savusavu, Fiji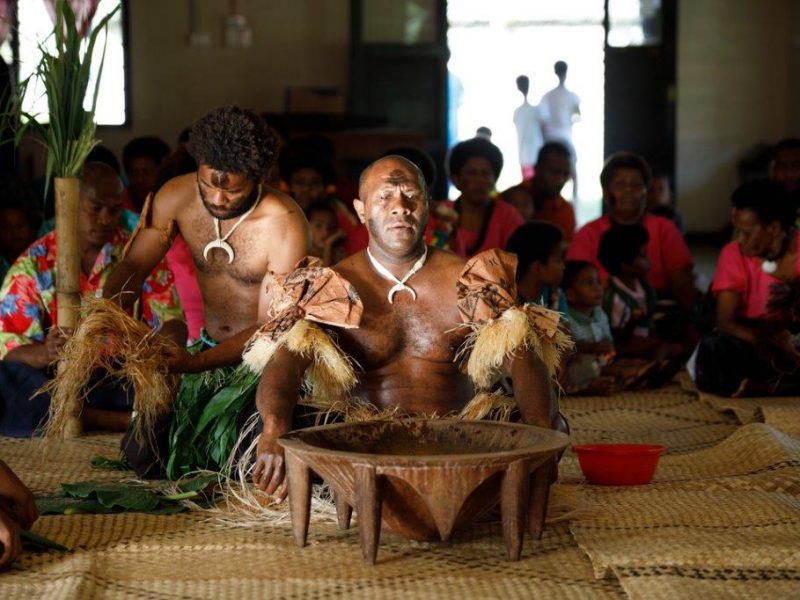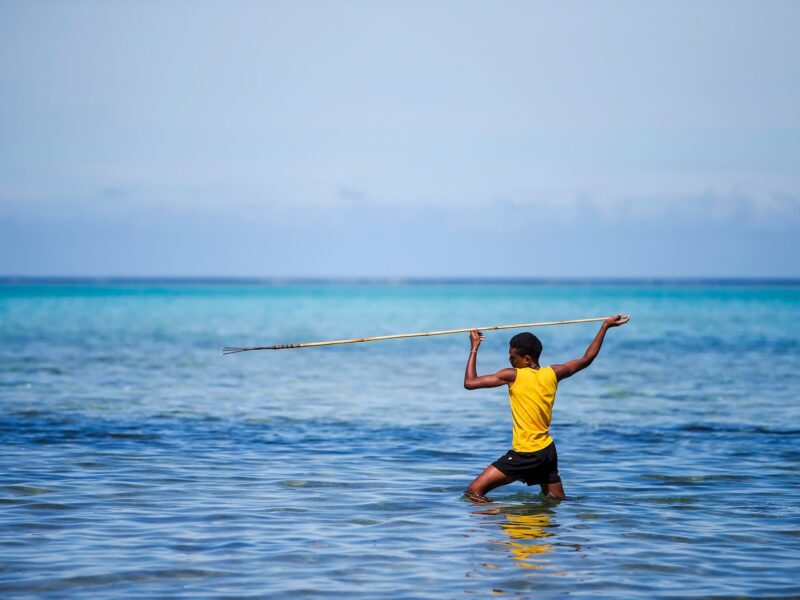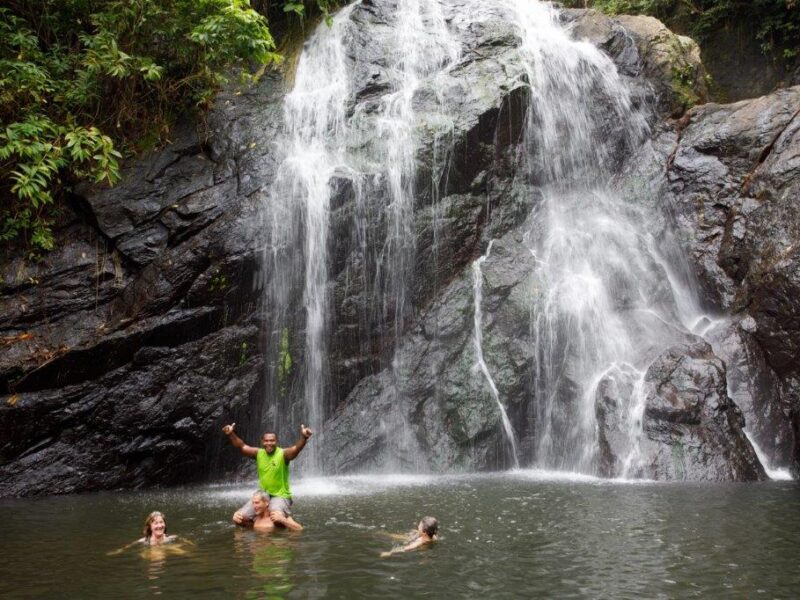 During this week, you'll enjoy the rich culture and unspoilt nature of Fiji, the place where happiness comes naturally. We're in Savusavu in Fiji's North – known as the Hidden Paradise because it really is! We'll take you out to snorkel on the beautiful coral reefs, to plunge into fresh waterfalls, to visit traditional Fijian villages where you'll see a deeply hospitable corner of Fiji.
We've got a full programme planned – with some spare time to just relax.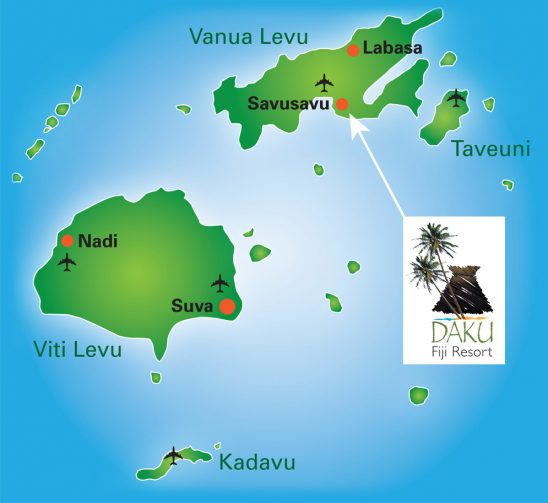 Our accommodation: Daku Resort
We're located at Daku Resort near Savusavu in Fiji. It's a small and comfortable resort: you can choose from Ocean View bures, or standard room rear bures.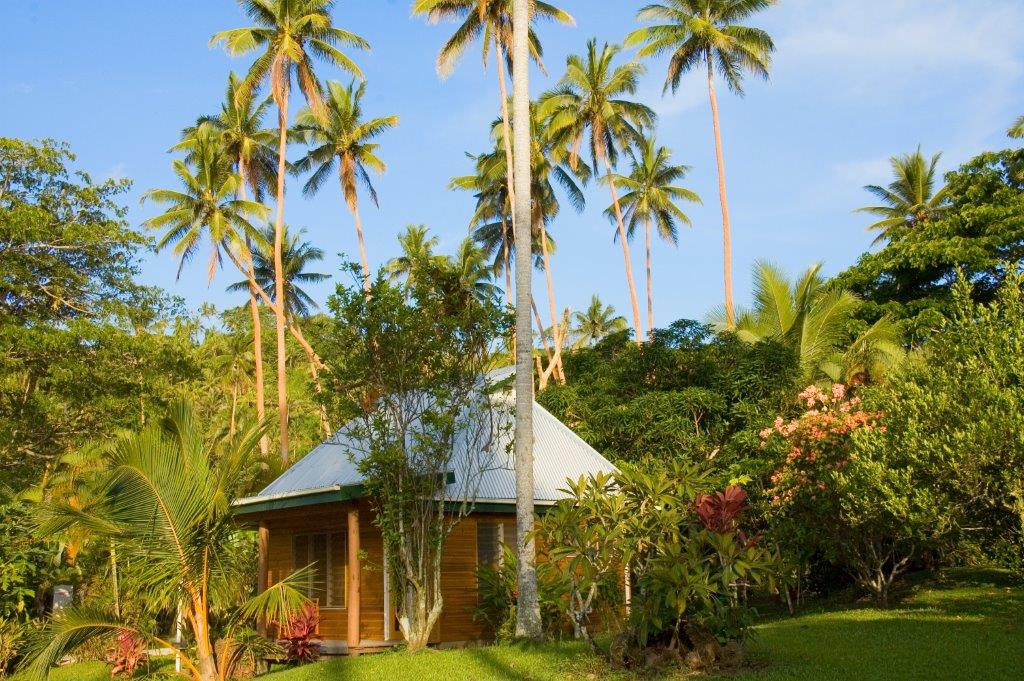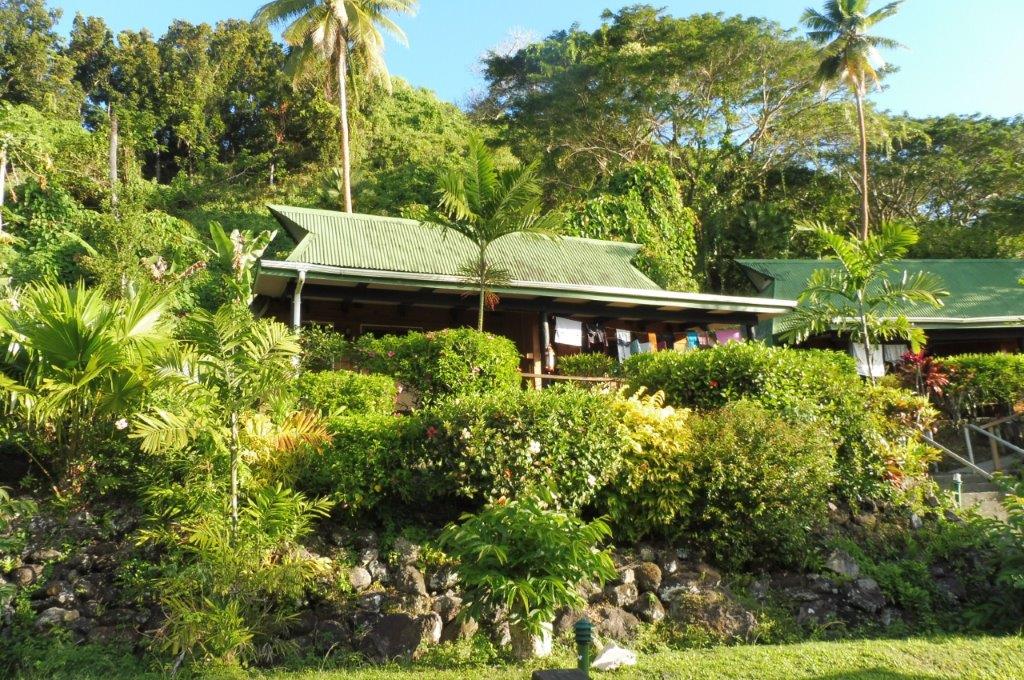 Standard room – rear bure
October 26 - November 2, 2024
Included

Accommodation

All Workshop Fees

Dining & Meals

Lectures & Excursions

Transfers from Savusavu Airport

Not Included

Alcoholic Beverages

Equipment & Supplies

Flights/Travel

Non-Course Activities

Travel Insurance
Arrive in Savusavu.
6.00 pm Traditional Fijian welcome ceremony
7.30 pm Dinner
9am - 12:30pm: Workshop
1pm: Lunch
Afternoon: Free time
7:30pm: Dinner
9.00 am – 12.30 pm Workshop
1.00pm Lunch
Visit from local craftswoman and tapa making demonstration followed by trip to Savusavu Town to see local market and shops. We'll take you there in a taxi, and then leave you to wander around and find your own way back (taxis cost approx F$4.60).
7.00 pm Dinner
• 9.00 am – 12.30 pm Workshop • 1.00 Lunch • 4.00 pm Visit to local village - a chance to see village life and enjoy the meke dance. Bring along your sketch book (of course). • 6.30 Talk on J Hunter Pearl farm, the local black pearl farm - illustrated talk with slides 7.00 pm Dinner
• 9.00 am – 12.30 pm Workshop • 1.00 pm Lunch• 2.00 Trip to waterfall • 7.30 pm Dinner
• 9.00 am – 12.30 pm Workshop: • 1.00 pm Picnic lunch at the beach • 5.00 pm Visit to Savusavu Yacht club for a sundowner. • 7.30 pm Dinner
• 9.00 am – 12.30 pm Workshop: • 1.00 pm Lunch • Afternoon: Free time for optional activities • 5.00 Art show and tell - review of the week • 7.30 pm Dinner
Breakfast and departure.Fly from Savusavu back to Nadi International flight home.If your flight is in the afternoon, you can have lunch at Daku. Check-out time is at 10.00am but you are welcome to leave your bags in reception.
Tour Location
Daku Resort, Fiji
Paradise Courses is hosted at Daku Resort, which is in Savusavu, Fiji.