Watercolours outside the square with Charles Sluga: 15 – 22 June 2024
per person
Watercolours outside the square with Charles Sluga
Charles Sluga's workshops explore the world – not just the world of watercolours, but the world around him. He takes his students into the local environment to paint, to eat, to walk the hills and beaches, to see with fresh eyes. This workshop celebrates the tropical landscapes of Fiji and the warm hospitality of the people of Savusavu.
Course Summary
Dates: June 15 – 22, 2024
Teacher: Charles Sluga
Content: Watercolours
Programme: Daily morning workshops of 3 hours
Suitability: All levels
Excursions and extras: full details to follow
Food: Three meals a day.
Itinerary: Arrive Savusavu June 15. Course starts morning June 16, ends evening June 21. Depart Savusavu June 22.
Materials: A list of materials to be purchased for the course will be provided.
About the Workshop
During the week Charles will lead you into the heart of the local community, walking around the market stalls, spending time in the nearby villages, watching the meke dancers, setting up your easels on the beach. There will be time spent back at Daku Resort in the studio which we set up on the platform on the hillside – we use it for yoga retreats, for weddings, for art exhibitions and of course as an art studio, which is what you'll be there for.
Charles' great love is the sea and there's plenty of that in Fiji. Daku Resort is on the shores of Savusavu Bay where the waters change from a midday azure to a late evening slate grey. Over the hill and down the Hibiscus Highway the ocean sparkles in turquoise and teal at low tide, and then turns to a deeper hue of navy as it comes up.
Along the coastline the coconut palms sway, the children wave from the bus on their way to school, the women hang their washing out in the gardens.
All this is waiting to be captured by your paintbrushes.
Meet your instructor.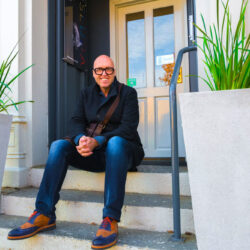 Charles Sluga isn't a typical artist.
His early fascination with drawing and art instruction in acrylics from the age of 13 later gave way to an academic background in mathematics and physics. But Charles made the decision to follow his passion and became a professional contemporary artist more than 30 years ago.
He is now recognised internationally as a master of "watercolours outside the square." He shuns mediocrity, questions the purpose of painting, and challenges himself to push the boundaries of possibility.
Charles captures diverse subjects in a broad range of styles ranging from the semi-abstract to loosely realistic. He isn't afraid to mix media to achieve his vision, and much of his work is underpinned by careful research. His Monopoly Exhibition, the result of two years of detailed research and artistic documentation of the streets of London, is an excellent example of how he delves deeply into his subjects and applies structured thinking to his art.
Charles's technique has been described by critics as "impeccable" and his vision as "brilliant" and "evocative". By taking risks he has helped elevate the status of watercolour as a major contemporary medium. His dedication to his artistic vision and pursuit of excellence has been rewarded with the coveted Alice Bale Award, inclusion in the International Watercolour Biennale, and an invitation to be represented at the New York Art Expo.
Charles is a man who loves the smell of the sea, the chill of winter, and the sound of laughter. He cries when he reads Steinbeck and wears his heart on his sleeve. His tours are memorable on many levels.
Included

Accommodation

All Workshop Fees

Dining & Meals

Lectures & Excursions

Transfers from Savusavu Airport

Not Included

Alcoholic Beverages

Equipment & Supplies

Flights/Travel

Non-Course Activities

Travel Insurance
Arrive in Savusavu.
6.00 pm Welcome ceremony
7.30 pm Dinner
9.00 am – 12.30 pm Workshop. Details to come.
1.00 pm Lunch
Afternoon: Free time
7.30 pm Dinner
9.00 am – 12.00 pm Workshop: Details to come.
1.00 pm Lunch
2.00 Handicraft display and tapa making demonstration: some of the local women will come to display and sell their jewellery. One of them will give a demonstration of making tapa – the decorated Fijian bark cloth.
Afternoon: Trip to Savusavu Town to see local market and shop. Savusavu town is a mileaway – 5 minutes in a taxi. We will send you in by taxi and then leave you to wander round and make your own way back by taxi – it's FJ$4 (US$2).
7.00 pm Dinner
9.00 am – 12.00 pm Workshop: Details to come..
1.00 pm Picnic Lunch and swimming at Devodara Beach or Buli Kula. Return to Daku approx. 3.30 pm.
7.00 pm Dinner
9.00 am – 12.00 pm Workshop: Details to come.
1.00 pm Lunch
Afternoon: Trip to waterfall: this is about 25 minutes' drive and is a beautiful natural fall where you can plunge into the cool clear water and swim.
7.00 pm Dinner
9.00 am – 12.00 pm Workshop:Details to come.
1.00 pm Lunch, followed by a trip to local village to sketch….and then see the traditional meke dance performed with an entrancing energy by the villagers.
7.00 pm Dinner
9.00 am – 12.30 pm Workshop.
Afternoon: Extra Choice Activity
7.30 Final Fijian dinner
Fly from Savusavu back to Nadi International flight home.
Tour Location
Daku Resort, Fiji