Sketching on tour with Leonie Norton: August 6 – 13, 2022
per person
Sketching brings balance......
"Sketching is the balance in my life. I love to travel and what better way to do it than to record the people and places in my sketches. Travel sketching combines a holiday with sketching."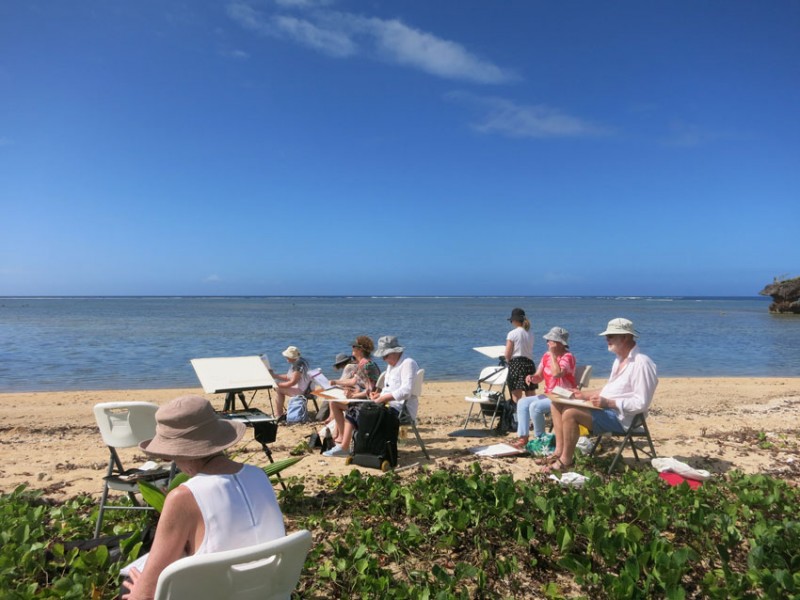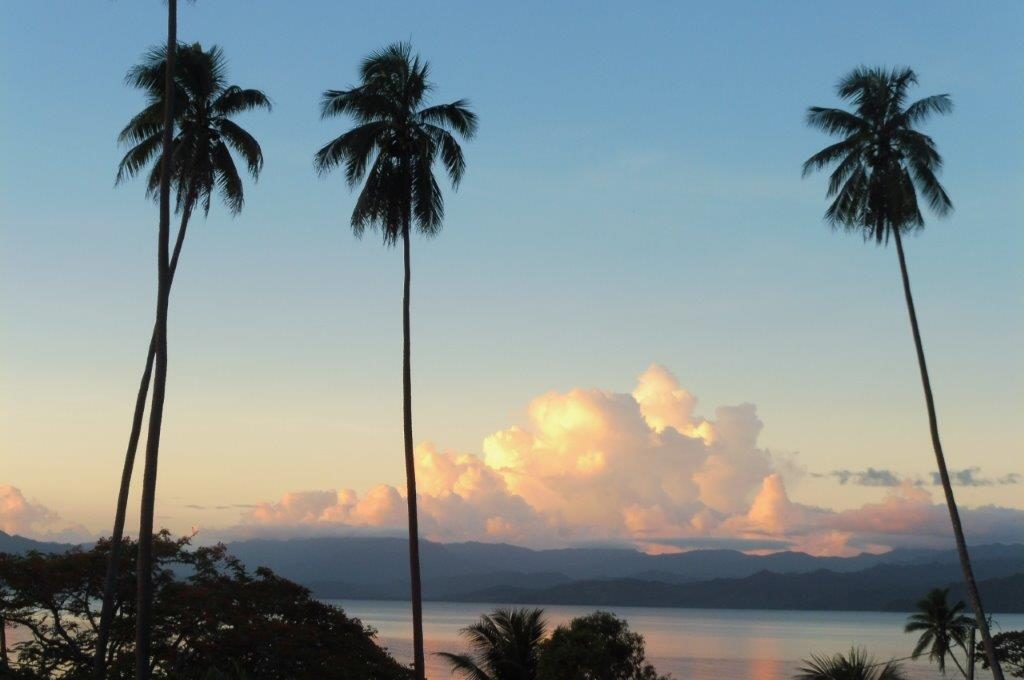 Summary & Pricing
Dates: August 6 – 13, 2022
Teacher:  Leonie Norton
Title: Travel Sketching
Content: Travel Sketching in pen, watercolours or watercolour pencil.
Programme: Daily morning workshops of 3 hours
Suitability: All levels
Excursions and extras: Visit to waterfall, beach picnic, village visit
Food: Three meals a day; Fijian, Indian and International menu
Itinerary: Arrive Savusavu Saturday. Course starts morning Sunday, ends evening Friday. Depart Savusavu Saturday.
About the Workshop
Enjoy the atmosphere, ambience and excitement of visiting new places. Capture and record other cultures and lifestyles through sketching and travel notes while creating a visual souvenir of your holiday.
It is an impression of people and place. It is quick and spontaneous.
Anyone can sketch, from the absolute beginner to the experienced artist. It is your personal Interpretation of what you see.
Learn the techniques of pen and watercolour wash when you join Leonie on one of her unique sketching holidays.
In the morning there will be a three hour workshop lead by Leonie. Afternoons are free: relax, go on excursions or continue sketching at your own pace. If you haven't sketched before, you're welcome and will love the experience.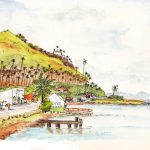 What To Bring
HB Pencil or clutch pencil 0.5mm HB
Pencil sharpener
Waterproof Black Pigment Liners or Drafting Pens 05mm (Staedtler is one brand)
White plastic eraser
Grey kneadable eraser
Waterbrushes (art shops) small,medium,large
Coloured pencils, can be aquarelle but will be used dry and can be used in conjunction with paint. Optional.
Portable lightweight sketching stool. Must fit in suitcase. Various styles available.
An A3 piece of cardboard is useful to place sketching materials on while on location.
Sketching stool
Waterbrush
The sketchboard rests on your knees. Cover in Non-slip mat. (optional).
SKETCHBOOKS
These are available in all shapes and sizes. A small pocket sketchbook is useful to carry at all times. Use cold pressed  300gm (smooth not rough) paper.
21cms x 13cms is a good size. (8 x 5 inches)
You can purchase an A4 pad and have it cut in halves and bound at Officeworks for an excellent sketchbook.
Bring watercolour pad if using watercolour, not cartridge or drawing paper.
      WATERCOLOURS
Pan sets or 5ml tubes. Compact Pocket Travelling Watercolour Pan sets include Winsor & Newton Cotmans brand.
Waterbrush Pens. Has reservoir for water and nylon brush. Available Art Shops in small, medium or large. Medium is a good all round size.
Small box Tissues
Winsor & Newton Cotmans compact pocket travelling watercolour set
Other brands available. Check Google.
 USEFUL WATERCOLOURS ARE:
Various palettes will have different colours. This is not a problem. Just bring what you have.
There are also empty palettes you can buy and fill them with tube watercolours if you already have tube colours.
Cadmium Lemon

Cadmium Yellow

Yellow Ochre

Cadmium Red

Permanent Rose

Alizarin Crimson

Winsor Violet

Quinacridone Magenta

Burnt Umber

Burnt Sienna

French Ultramarine

Cerulean Blue

Sepia

Naples Yellow
Tube watercolour paints can be squeezed into the empty segments. Also good mixing surface.
COLOURED PENCILS
If you would like to use coloured pencils, bring a selection of colours. It does not matter if they are water soluble or not. These can be used for sketching, or in conjunction with watercolours and colours can also be purchased individually.
Some useful green colours are:
Sap Green, Olive Green, Pine Green, Cedar Green, Apple Green. Also include primary colours which are red, blue and yellow.
NOTE: Waterbrushes and 0.05mm black pigment liners will be available to purchase from Leonie. Contact Leonie if you have any queries regarding materials. Do not forget to bring your sketching stool.
Accommodation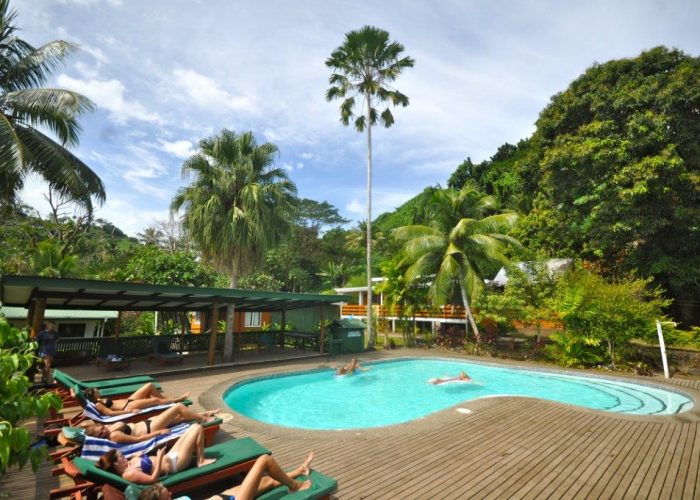 You'll stay with us at Daku Resort, Fiji.
Accommodation is packaged with your course, and there are a variety of comfortable lodgings available during your stay with us at Daku Resort.
More Information
Additional Adventures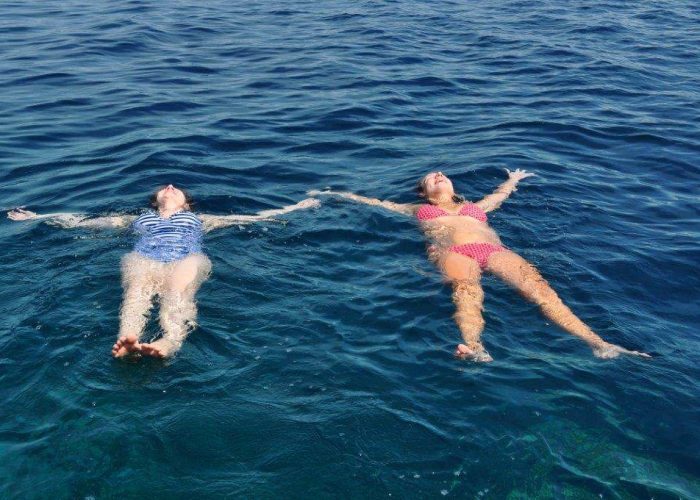 What to do in your free time.
We've arranged a number of excursions as part of the course (see Programme tab on the menu bar above). We also offer a range of other activities inside and outside of Daku Resort (please note that unless they are part of the programme, some activities, such as massages and those requiring equipment hire, may have additional costs).
More Information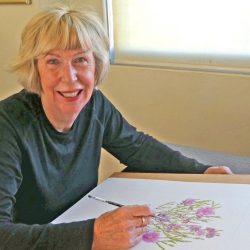 Meet Leonie Norton.
"Art is my profession, my interest, my pastime and my passion. I have been drawing and painting for as long as I can remember and I am also a professional botanical artist. Sketching is the balance in my life. I love to travel and what better way to do it than to record the people and places in my sketches. Travel sketching combines a holiday with sketching."
Leonie is highly qualified, holding a BA(VisArt), B.Fine Arts (Hons) Plant & Wildlife Illustration and a Grad Dip VET (Adult Ed).  Her paintings can be found in private and public collections in Australia and overseas. She also illustrates for magazines and undertakes commission paintings. She is an international tutor of Botanical Art and Sydney's most prominent botanical art educator.
Leonie has held regular courses in community colleges and art centres and has conducted specialized workshops throughout Australia and New Zealand. With the world on pause since the pandemic, her overseas teaching has been paused but she is looking forward to getting back to it as soon as borders re-open.
Returning to Fiji will be a joy: she has held ten courses there, and is confident of the warm hospitality from the people and the exciting subject matter in the surroundings.
" I look for unique locations that offer amazing sketching opportunities and are not too expensive. Daku Resort in Fiji offers all of that, and I am looking forward to returning."
Look at Leonie's sketches on her website
PLEASE REMEMBER that all the workshop destinations may be switched around, depending on weather and group choices.
Arrive in Savusavu (we'll meet you at Savusavu airport) - OR if you fly into Labasa in the north, we can arrange a taxi for you and try to find others to share the ride and the fare).
6.00 pm Traditional Fijian welcome ceremony
7.30 pm Dinner
9am - 12:30pm: Workshop - on this first day we'll start in the yoga shala which also serves as a magnificent studio with wonderful views of the landscape.
1pm: Lunch
Afternoon: Free time: relax, swim, snorkel....
7:30pm: Dinner
9am - 12:30pm Workshop: on the beach underneath the rain tree near Jean Michel Cousteau Resort
1pm Lunch
Afternoon: Trip to Savusavu Town to see local market and shops
7.30 pm Dinner
9.00 am – 12.30 pm Workshop at the beach about 20 minutes away. A chance to sketch the coastline and palm trees (and have a dip in the ocean). We'll take a picnic lunch and return to Daku approx 3.30.
Free time.
6.30 Talk on J Hunter Pearl farm, the local black pearl farm - illustrated talk with slides
7.00 pm Dinner
9.00 am – 12.30 pm Workshop in the grounds of Daku Resort - a focus on flowers, palm trees, beachscapes, and the staff going about their  daily duties.
1.00 Lunch
2.00 Trip to waterfall
7.00 pm Dinner
9.00 am – 12.30 pm Workshop: we'll go to one of the yacht marinas and sketch the harbour life - the yachts, the clear waters, the activity on the shore.
1.00 pm Lunch
Afternoon: Free time for optional activities
4.00 pm Visit to local village - a chance to see village life and enjoy the meke dance. Bring along your sketch book (of course).
7.30 pm Dinner
9.00 am – 12.30 pm Workshop: we leave this one unscheduled so we can catch up on anything we missed or fill in things we haven't completed in time for a casual friendly end -of-stay exhibition to celebrate what we've achieved.
1.00 pm Lunch
Free time and set-up end-of-week exhibition
5.00 Exhibition - always a really fun event
7.30 pm Final Fijian dinner
Fly from Savusavu back to Nadi International flight home