Pop Art with Dale Leach: Sept 19 – 26 2020
per person
Dale Leach's course in Pop Art is a lively, absorbing foray into a whole new way of capturing images. The final result is deceptively simple, and Dale will guide you through the techniques of constructing those bright, focused paintings that leap out of the canvas and tease the imagination.
Summary & Pricing
Content: Art
Programme: Daily morning workshops of 3 hours
Suitability: All levels from beginners to more experienced painters
Excursions and extras: Visit to waterfall, beach picnic, village visit
Food: Three meals a day; Fijian, Indian and International menu
Itinerary: Arrive Savusavu Sept 19. Course starts morning Sept 20, ends evening Sept 25. Depart Savusavu Sept 26.
Cost per person:
Rear bure standard room:
Shared  room: AUD $2050
Single Ocean View bure room: AUD $2300
Non-participating friend / partner (rear bure) at AUD $1075 (total for you and friend = $3125)
Front  bure:
Shared  room: AUD $2200
Single Ocean View bure room: AUD $2550
Non-participating friend / partner (Ocean View bure) at AUD $1250 (total for you and friend = $3450)
About the Course
The Fijian environment lends itself to clear, bright colours and Dale plans to make it very much about Fiji – the people's stories that make the place unique; the folk tales of the land, the animals and the fish. She will be asking participants to dig up as much information as they can before the week, so they can start assembling a Visual Art Diary of ideas which would then resolve in to one or two paintings.
WHAT IS POP ART?
Pop Art is a style of art based on simple or abstracted bold images of common objects or landscapes painted in bright colours. In a way, Pop Art was a reaction to the bleak years of World War Two. Pop Art is meant to be fun.
When was the Pop Art movement?
It started in the United Kingdom with artists like Eduardo Paolozzi, Richard Hamilton and David Hockney in the 1950s but became a true art movement in New York City in the 1960s with artists like Wayne Thiebaud, Andy Warhol, Jasper Johns and Roy Lichtenstein.
What are the characteristics of Pop Art?
Pop Art uses images of people and objects that are popular in the modern world.Pop Artists used advertising images and techniques like screen printing and photography to simplify, edit and combine unrelated images. This included images of famous celebrities like movie stars and rock and pop music and musicians. Pop began after the Second World War with UK artists seeing American advertising and realising that a whole new world and a way of seeing the world, was being created in America.They started to use these images as subject matter to create art and when this work was seen in America the NYC Pop art scene exploded.
Later on Pop Artist David Hockney started to create photographic landscape collages, these then became the starting point for his later, and wonderful East Yorkshire series. When he returned home to England to visit his mother. Hockney went out with his drawing pads and an iPad and started to draw the local scenery. He created a method of painting and drawing, en plain air, working outdoors, quickly rendering a scene to capture the fleeting effects of  light in the changeable English weather.
Hockney uses bright colours, he simplifies and abstracts his landscapes, he creates patterns and textures with various lines and creates contour lines using different colours.
Accommodation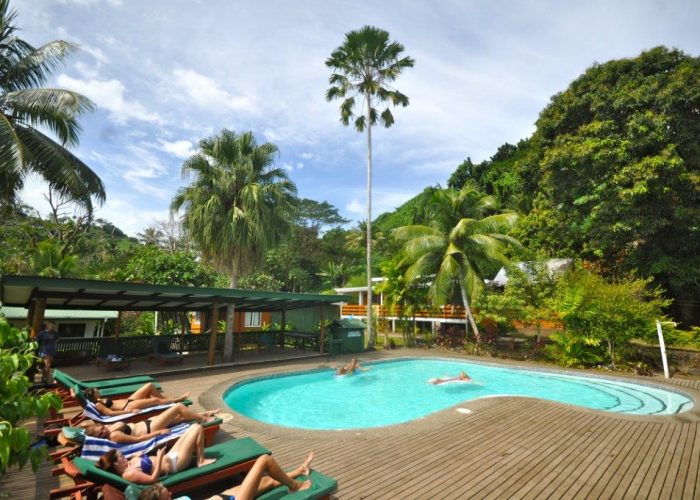 You'll stay with us at Daku Resort, Fiji.
Accommodation is packaged with your course, and there are a variety of comfortable lodgings available during your stay with us at Daku Resort.
More Information
Additional Adventures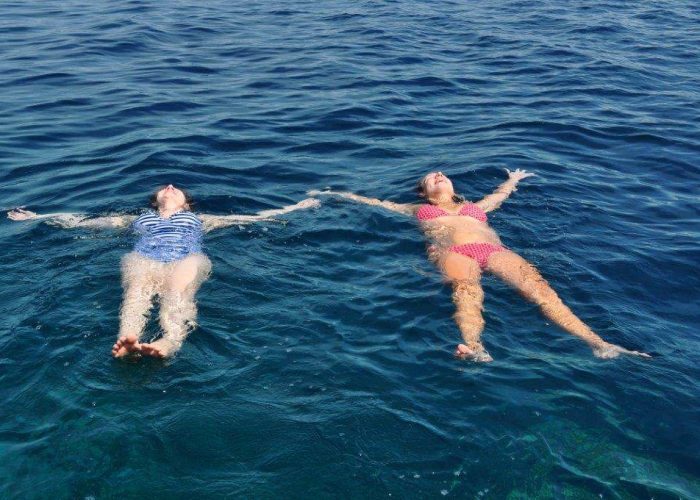 What to do in your free time.
We've arranged a number of excursions as part of the course (see Programme tab on the menu bar above). We also offer a range of other activities inside and outside of Daku Resort (please note that unless they are part of the programme, some activities, such as massages and those requiring equipment hire, may have additional costs).
More Information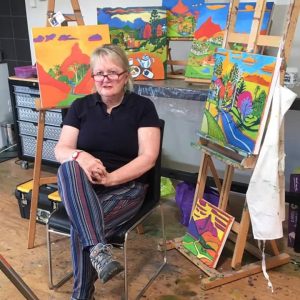 Dale was born in Geelong, and grew up travelling between, Frankston and South East Queensland with her parents. After backpacking through Europe and America, visiting London, Paris and New York, she was determined to go to an art school and make art her career. Dale completed a TOP Art course at Frankston TAFE, and gained entry to Prahran CAE, completing a Diploma of Art and Design (Painting), in 1982  Her teachers were Jeff Makin, Vic Mazner, Leslie Dumbrell, Helen Gaier and Roger Kemp.
Dale completed a Graduate Dip of Education and worked as an art teacher at Hamilton Technical School for 4 years.  She then travelled through SA, WA and arrived in the NT and lived and taught in Darwin for 10 years as part of Sanderson High School's Art Dept. On returning to Queensland Dale set about undertaking a number of professional development short courses including Marketing your Art and joined a number of Art Associations and began exhibiting her work on a regular basis.
More Information
Included

Accommodation

All Workshop Fees

Lectures & Excursions

Meals & Drinks

Transfers from Savusavu Airport

Not Included

Equipment & Supplies

Flights/Travel

Non-Course Activities

Travel Insurance
Arrive in Savusavu.
6.00 pm Welcome ceremony
7.30 pm Dinner
9am - 12:30pm: Workshop
1pm: Lunch
Afternoon: Free time
7:30pm: Dinner
9am - 12pm Workshop
1pm Lunch
2pm Handicraft display and tapa making demonstration: some of the local women will come to display and sell their jewellery. One of them will give a demonstration of making tapa – the decorated Fijian bark cloth.
Afternoon: Trip to Savusavu Town to see local market and shop. Savusavu town is a mileaway – 5 minutes in a taxi. We will send you in by taxi and then leave you to wander round and make your own way back by taxi – it's FJ$4 (US$2).
7.30 pm Dinner
9am - 12pm Workshop
1pm Picnic Lunch and swimming at Devodara Beach or Buli Kula. Return to Daku approx. 3.30 pm.
7.30 pm Dinner
9am – 12pm Workshop
1pm Lunch
Afternoon: Trip to waterfall: this is about 25 minutes' drive and is a beautiful natural fall where you can plunge into the cool clear water and swim.
7.30 pm Dinner
9am – 12pm Workshop
1pm Lunch
 Trip to local village and meke (traditional Fijian dance) performance.
7.30 pm Dinner
9am – 12:30pm Workshop
1pm Lunch
Afternoon: Free time
7:30pm Final lovo Dinner
Fly from Savusavu back to Nadi International for your flight home.
Tour Location
Daku Resort, Fiji
Paradise Courses is hosted at Daku Resort, which is in Savusavu, Fiji.