Pen and Wash with Lizzie Connor : 18 – 25 May 2024
per person
A fabulous week of painting.
Pen and wash is a gorgeous medium, and if you've never tried it, you'll be entranced at the way it combines the suggestive elements of watercolour with the firm lines of pen and ink. It can be applied to figurative painting or, just as easily, to abstract pieces to produces strong, evocative images.
The daily programme is set out in detail: click the PROGRAMME tab above.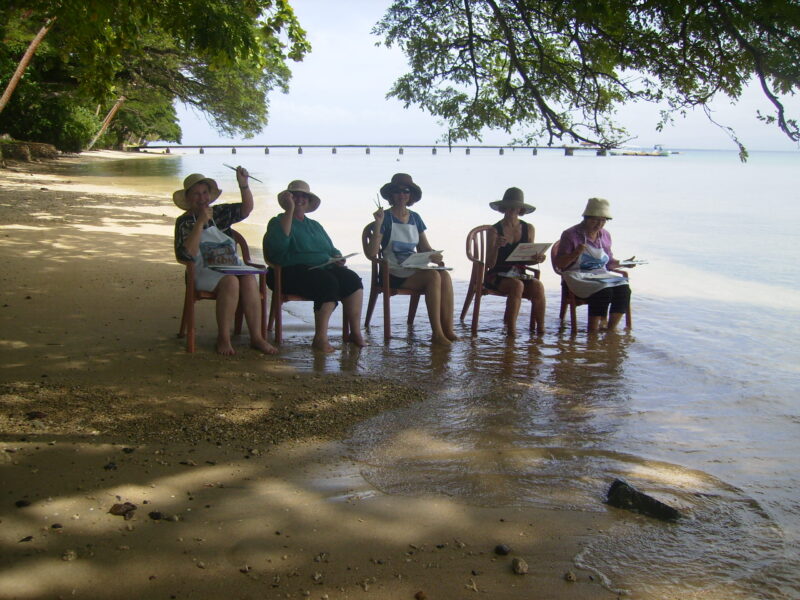 From Aus$2550 - Price includes:
Daily workshops with Lizzie Connor with personal attention
Accommodation – choose from our bures at the front (Ocean View bures), or at the back (standard rooms)
Meals : breakfast, lunch and dinner – a mix of local Fijian and Indian food and international recipes
Excursions:  snorkel on the fabulous coral reefs, bathe in glorious waterfall, revel in the abundant nature of the landscape and experience the rich Fijian culture.
You just need to buy your air ticket and art materials, and leave the rest to us.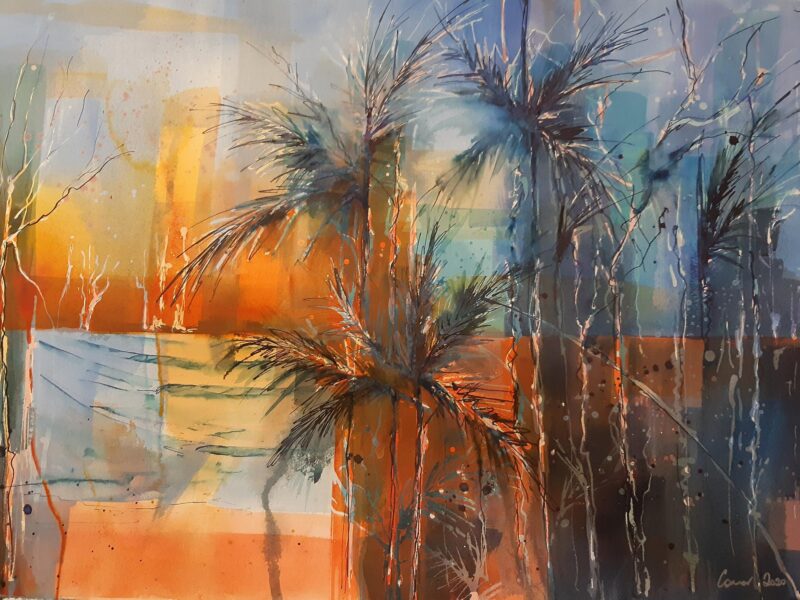 Painting course
Lizzie returns to Fiji for her fourth visit to run one of her marvellous vibrant workshops in pen and wash. It's a fresh and fun way of combining some watercolour technique with your drawing skills and produces strong, evocative images.
Artists of all skill levels are welcome!
Lizzie will guide you to explore
creating a number of different pen sketches of a diverse range of topics
using a range of different tonal areas created by making lots of different lines and marks
then overlaying lightly coloured wash or washes over selected areas of the drawing to emphasise focal points in the drawing.
Drawing materials to be played with will be felt tips, biros, and ink and pens.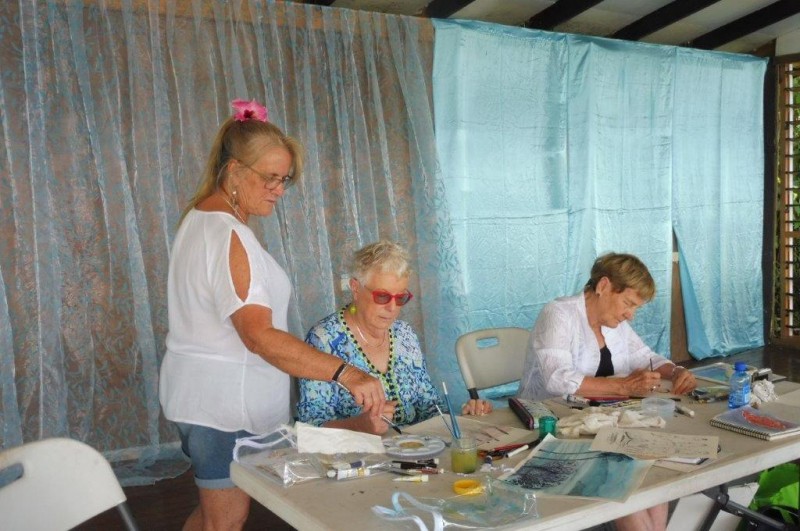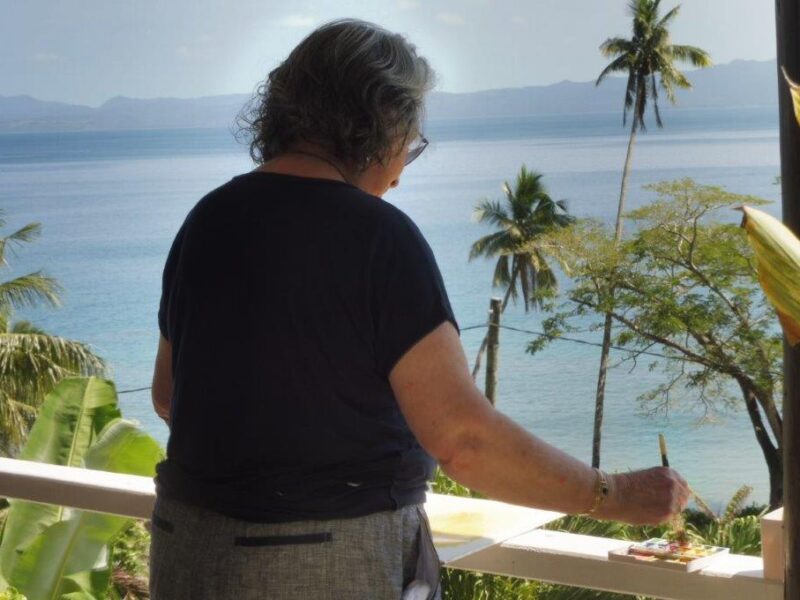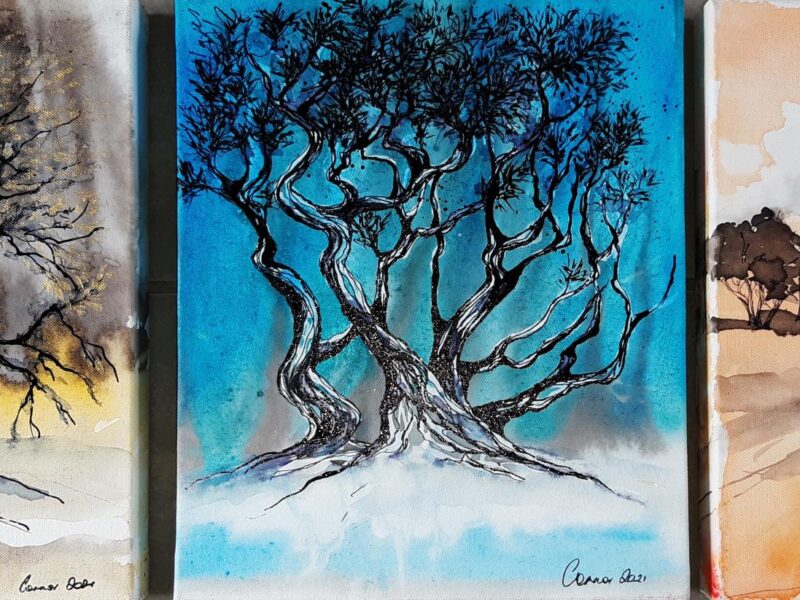 Another Amazing Memorable Experience
No wonder I've been to Fiji 8 times. 5 of those times being to Daku Resort. I joined a group of like minded creatives to enjoy an Art Course this month – July 2023. I had the most wonderful time – again – at Daku Resort. The staff are truly wonderful as they go above and beyond to make sure that you have the best experience possible – I honestly can't compliment them enough. The Art Course with Lizzie was also fabulous. The beautiful smiles and genuine love of life is what makes Fiji (and especially Daku) one of my favourite places to regenerate and relax as it makes me feel there is a place where peace and love really do exist. Thank you to all at Daku for another amazing and memorable stay.
Karen M
This was pen and wash exercise, a very first time experience and quite a challenge for me.  Lizzie was ever helpful with demonstrating and explaining techniques on different art surfaces using and experimenting with many different inks.  Each day she took us in a new direction with a new focus and lovely locations to observe.  I found Lizzie to be a very friendly and patient person who is also a very accomplished artist in the use of other art mediums.  I have no hesitation in recommending her services as an art tutor.
Una Robinson
Lizzie's course each day was on different parts of the island, taking in the beauty and surrounds of Savusavu. Lizzie is a very easy going , patient teacher with a wealth of knowledge in art,  we learnt about applying water colours, washes, drawing, sketching, sometimes taking us out of our comfort zone and trying things we may usually not try. Improving our skills , making new friends and having fun doing something we all had in common, art! Classes where usually in the mornings, with the afternoons usually filled with different activities, like a drive into the country side to a gorgeous waterfall and swimming hole, visiting a local village for traditional welcoming,  songs and dance. Going out to meet a local soap maker and learning of his home, his ancestors who owned his land before him, and his traditional craft of soap making. Free days in the village of Savusavu to wonder as you please. It was the perfect mixture of combining an art class and being a tourist and seeing some of the sites.
Michelle Tipper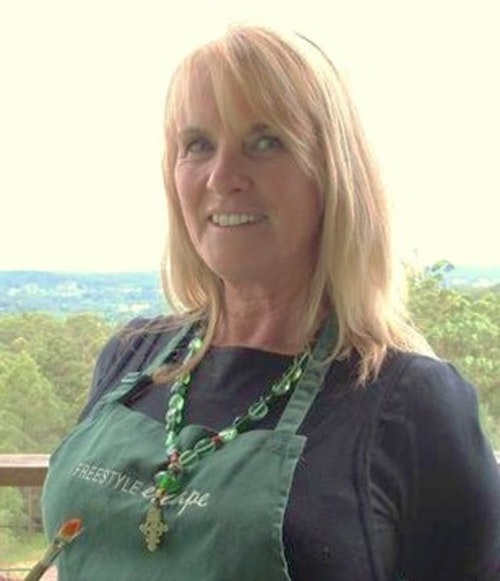 Teacher Lizzie Connor
Originally from Sorrento in Victoria, Lizzie Connor now lives at Mudjimba on the Sunshine Coast in Queensland. She runs classes and workshops for both children and adults and conducts workshops in and around the Sunshine Coast and Brisbane at various galleries and facilities, and at her home studio at Mudjimba.
Summary & Pricing
Dates: 18 – 25 May 2024
Teacher: Lizzie Connor
Content: Pen and wash: drawing and watercolours
Programme: Daily morning workshops of 3 hours
Suitability: All levels
Excursions and extras: Visit to waterfall, beach picnic, village visit
Food: Three meals a day.
Itinerary: Arrive Savusavu Saturday. Course starts morning Sunday, ends evening Friday. Depart Savusavu Saturday morning.
Materials: A list of materials to be purchased for the course is given below .
A wash is a term for a visual arts technique resulting in a semi-transparent layer of color. A wash of diluted water colour paint applied in combination with drawing is called pen and wash. Normally only one or two colours of wash are used.
If students are not so keen on drawing, or not confident this could be a great way to up you skills with drawing, but using paint mediums as well. Pen and wash is a lovely free way of working, where the brush work is soft and loose, as is the pen work, but the pen work also is the element that holds the images together and gives them strength.
Using lightweight materials it makes this process perfect for  for travel journaling or quick inspired sketches with some colour added – for example if you are sketching at the Copra Shed at Savusavu and there is a lot of movement and colour, pen and wash allows you to work fast and capture this. Or if you have more time to spend on creating an image of a micro view of a shell or coral on the beach, pen and wash allows you to capture the textures you see, and support that with the addition of subtle colours from the water colour wash.
What To Bring
Here's materials you'll need to bring.
Water colour paints – essential colours
Cool colours – pthalo blue, cadmium yellow light or lemon yellow, alizarin crimson
Warm colours – napthol red light, or cadmium red light, ultramarine blue, cadmium yellow deep.
Water container (we have plenty of bottles at Daku)
Pallette – suitable for holding watercolour washes
4 x black felt tip markers – different brands (they will do different things and don't need to all be waterproof)
1 x bamboo pen (from Eckersleys approx. $6.00) or if you have a friend who grows bamboo, you might want to cut some and carve a nib .
1 x bottle parker quink black fountain pen ink (Officeworks )
1 x watersoluble black graphite pencil (called dark wash pencil)
1 x 4b graphite pencil
3 x A3 size canvas sheets (can be purchased off the roll at the art supplies shop)
1 x a3 watercolour paper pad at least 300gsm weight (Officeworks – Canson or Reeves brands are quite good and a reasonable price)
1 x roll masking tape
There are drawing boards at Daku, but you may want to bring your own lightweight board – A3 size.
1 x small set of watercolour pencils (Officeworks) –  Aquarells are good.
1 x A4 size visual diary for notes and experiments
1 x bottle of masking fluid.
Accommodation
Additional Adventures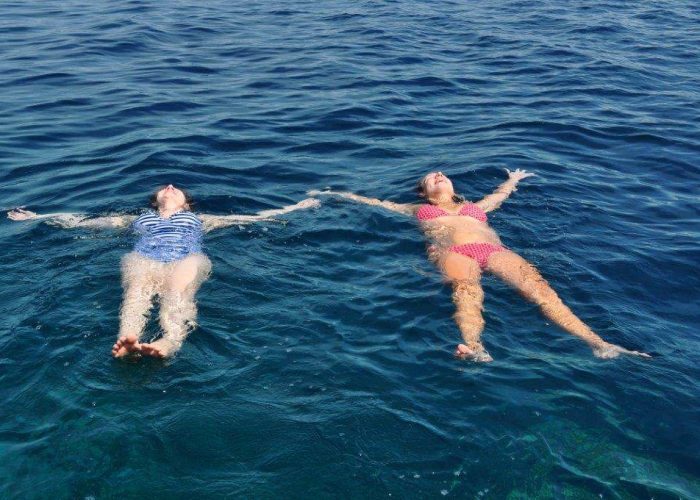 What to do in your free time.
We've arranged a number of excursions as part of the course (see Programme tab on the menu bar above). We also offer a range of other activities inside and outside of Daku Resort (please note that unless they are part of the programme, some activities, such as massages and those requiring equipment hire, may have additional costs).
More Information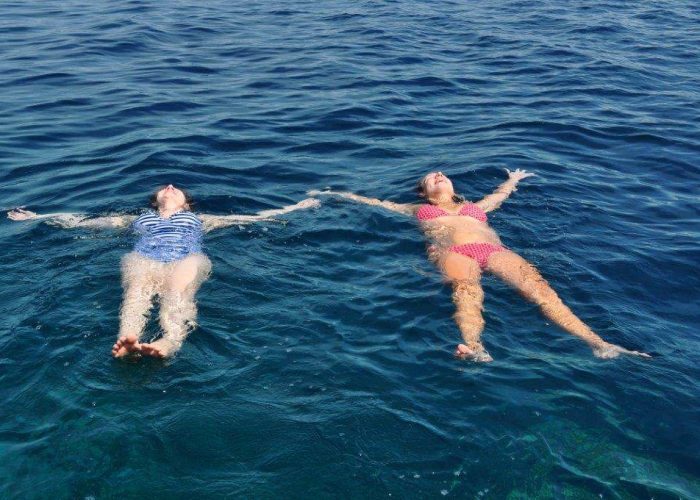 What to do in your free time.
We've arranged a number of excursions as part of the course (see Programme tab on the menu bar above). We also offer a range of other activities inside and outside of Daku Resort (please note that unless they are part of the programme, some activities, such as massages and those requiring equipment hire, may have additional costs).
More Information
Our location : Savusavu, Fiji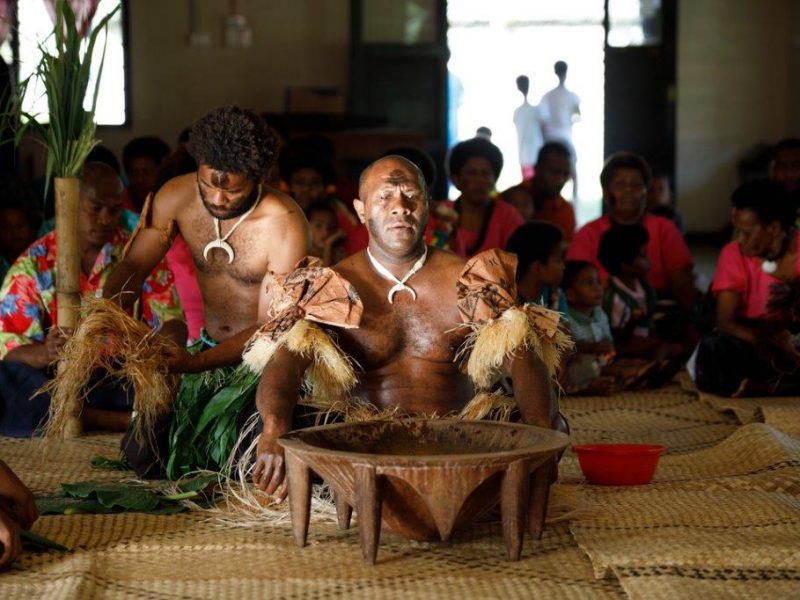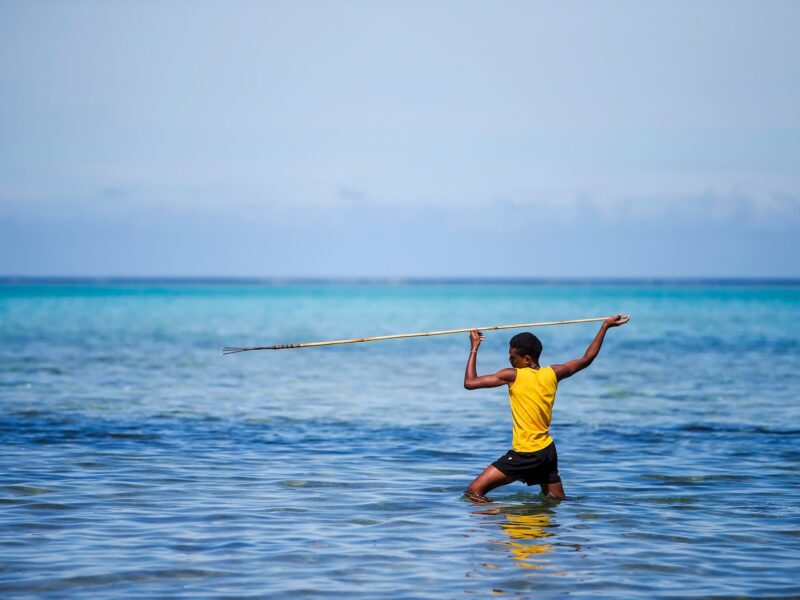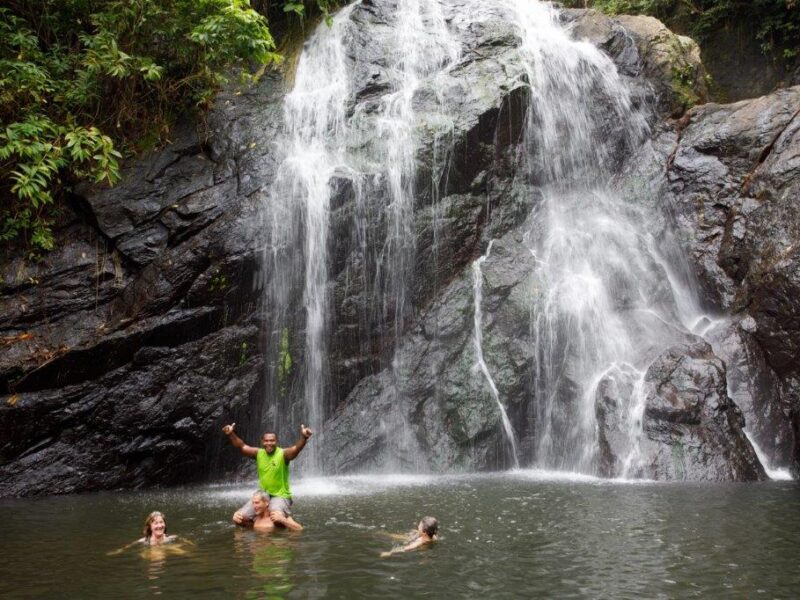 During this week, you'll enjoy the rich culture and unspoilt nature of Fiji, the place where happiness comes naturally. We're in Savusavu in Fiji's North – known as the Hidden Paradise because it really is! We'll take you out to snorkel on the beautiful coral reefs, to plunge into fresh waterfalls, to visit traditional Fijian villages where you'll see a deeply hospitable corner of Fiji.
We've got a full programme planned – with some spare time to just relax.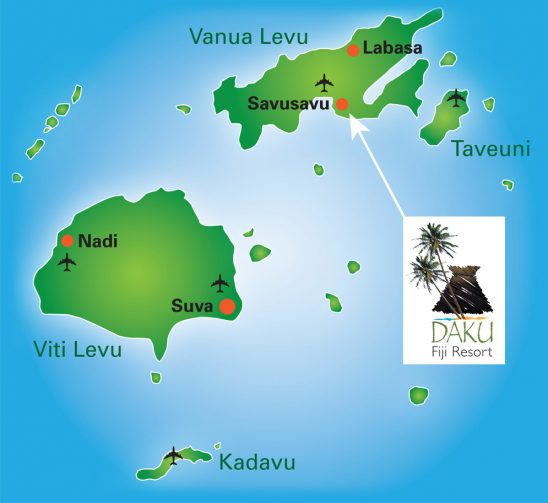 Our accommodation: Daku Resort
We're located at Daku Resort near Savusavu in Fiji. It's a small and comfortable resort: you can choose from Ocean View bures, or standard room rear bures.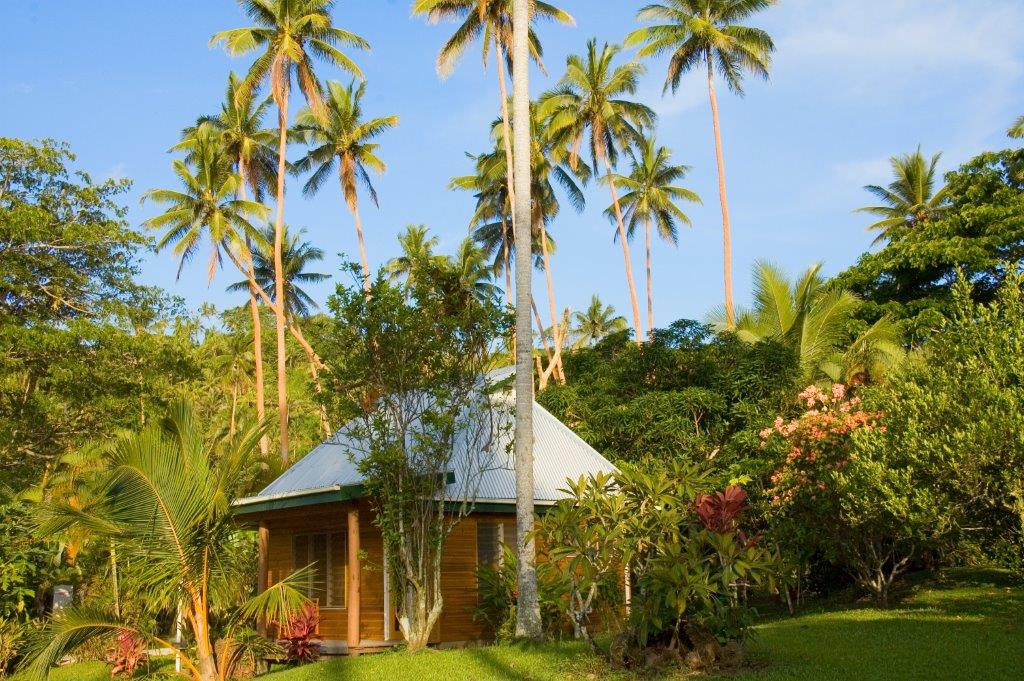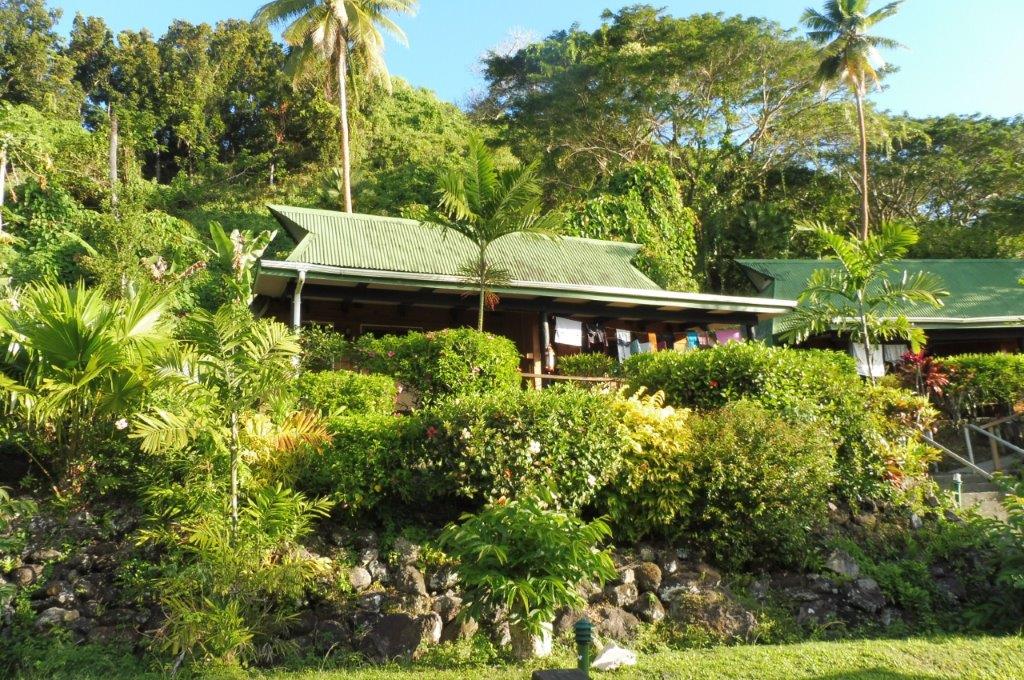 Standard room – rear bure
Included

Accommodation

All Workshop Fees

Dining & Meals

Lectures & Excursions

Transfers from Savusavu Airport

Not Included

Alcoholic Beverages

Equipment & Supplies

Flights/Travel

Non-Course Activities

Travel Insurance
Arrive in Savusavu.
6.00 pm Welcome ceremony
7.30 pm Dinner
9.00 am – 12.30 pm: Workshop at Daku in the Yoga Shala (art studio):
Getting familiar with our working materials   - our pens, paint, papers and canvasses.Completing mark making exercises and then taking our viewfinder looking at at least three different views from different perspectives and completing three small thumbnail drawings.From our view, and from our thumbnail sketches, choosing one image to develop into a completed work.Looking at how to create clouds in our wash with Quink ink and understanding the properties of Quink – it is quite different to work with, then adding shapes and textures with the pens.You will need – pens, Quink ink, Watercolour paper, Visual diary, Dark Wash pencil, brushes, palette, water container.
1.00 pm Lunch
Afternoon: Free time
7.30 pm Dinner
9.00 am - 12.00 Workshop on the beach at Daku:Taking ourselves down to the beach at Daku, setting up for our plein air work.Using the viewfinder to find a view, whether that is a more panoramic view, or dropping the viewfinder to the ground to isolate small objects on the sand, and then completed three thumbnail sketches – so one can be chosen to work from and develop into a finished work.Decisions to be made will be – coloured watercolour wash first or last.  This will depend on the pen or pens chosen to work with.  If they are a waterproof pen, you might want  to set up the drawn element of your work first, then lay the wash over the top.  Or you may feel more confident about laying a wash in first and then rendering the drawing over the top.You will need – watercolours, pens, watercolour paper, visual diary, watercolour pencils, brushes, palette, water container.
1.00 pm Lunch
2.00 Handicraft display and tapa making demonstration: some of the local women will come to display and sell their jewellery. One of them will give a demonstration of making tapa – the decorated Fijian bark cloth.
Afternoon: Trip to Savusavu Town to see local market and shop. Savusavu town is a mileaway – 5 minutes in a taxi. We will send you in by taxi and then leave you to wander round and make your own way back by taxi – it's $4 Fijian (US$2).
7.00 pm Dinner
9.00 am – 12.00 pm Workshop at Kasavu Village: Our day at beautiful Kasavu, a village about 50 minutes drive along the coast. There wlll be much to take in – a lot of subject matter to work with from boats sitting out on the water to views up and down the beach, sketching each other sitting on the beach and working. I say to explore the various ways of working with pen/wash, just pen with a small splash of colour, or maybe just pen. A really informal kind of day where everyone tends to find their spot on the beach or under the trees and work. Take your watercolours, brushes, pens, sketch books and some smaller size sheets of watercolour paper (say A4). A great day to create a number of works. The atmosphere of Kasavu will reflect in the results. We'll spend the whole day at Kasavu and have lunch there. It has a beach so there will be an opportiunity to swim.
Return to Daku approx. 4.00 pm.
7.00 pm Dinner
9.00 am - 12.00 Workshop in Daku Gardens: Our group will be exploring the textures, forms and vivid colours of the beautiful gardens at Daku Resort – again many options to explore, and no shortage of material for ideas. The light in Fiji is so very different from Australia, and this creates some big changes in the colours of the plants from how they are seen in Australia. Again, looking at some small thumbnails to get warmed up and allowing ideas to start to flow then making a choice from these of what to develop into a completed work. Materials – Watercolours, brushes, sketch book, Quink ink and your watercolour paper.
1.00 pm Lunch
Afternoon: Trip to waterfall: this is about 25 minutes' drive and is a beautiful natural fall where you can plunge into the cool clear water and swim.
7.00 pm Dinner
9.00 am – 12.00 pm Vuadomo waterfall / Urata lookout cafe Workshop: Another day in one of the hidden paradise's gems – Vuadomo Waterfall (bring your swimmers) . Our group will find places to sit and look at some very quick sketches as our warm up, and then settle into working on an image or images of the waterfall, and/or it's surrounds. If the weather is against us Plan B is to go to the Urato Lookout and Café, which overlooks Savusavu Bay and have some creative fun there. Maybe if we are lucky with both weather and time, we might get to do both. Café and bathroom at the lookout. Please bring all watercolours, brushes, sketch book, pens, Quink ink, watercolour paper .
1.00 pm Lunch.
Free afternoon.
7.00 pm Dinner
9.00 am – 12.30 pm Market day in Savusavu and Copra Shed Workshop:Our last day – we are going to the markets in town at Savusavu, lots of action, movement and colour. This day will be about completing gestural drawings (i.e.quick and fluid mark making) . A great opportunity to really loosen up as things will be changing and moving very quickly. Lots of colour with all the produce, and many of the stall holders are happy to offer themselves as subject matter. There is also some time to go over the the space behind the Copra Shed near the jetties and do some boat sketching – and grab a coffee Materials to bring – all watercolours, brushes, sketch book, pens, watercolour paper.
1.00 pm Lunch
Friday night – show and tell evening in the bar. Putting up works for display in the bar area at Daku. Everything looks amazing when it's all up together.
7.00 pm Final Fijian dinner
Fly from Savusavu back to Nadi International flight home.