Pastel and watercolour in Fiji with Sondra Holtzman: 14 – 21 October 2023
per person
A contemporary journey into a traditional Pacific culture
This week is a journey of many layers. Most obviously it is a journey across the Pacific to the islands of Fiji, a proud and independent nation of 300 islands, famed for blue seas, empty beaches and swaying palm trees.
It is also a journey into Fiji's traditional culture. We stay on the main northern island of Vanua Levu just outside the little town of Savusavu, well off the beaten tourist track. The locals are incredibly friendly and hospitable and will welcome you into their villages There we will see how they make masi (traditional bark cloth) decorated with designs specific to their clan, and sit with the women to learn how to weave voivoi mats, see a traditional meke dance – and, as the tide goes out, walk along the beach where they have gathered food for centuries. The opportunities for capturing these scenes in your sketchbooks are fantastic.
We'll also meet some local contemporary artists and hear about the challenges of working in a very small, conservative setting.  They will be delighted to have conversations around art with outsiders.
And finally, it is your own journey into your art practice. Guided by Sandy, it's a journey at your own pace. Be a dedicated sketcher and artist and drink in the varied scenery – or be a lazy observer just jotting down the occasional special scene. She will help you to work towards your own goals at your own pace.
Summary & Pricing
Dates: 14 – 21 October 2023
Teacher: Sondra Holtzman
Title: Pastel and watercolour in Fiji: a contemporary journey into a traditional Pacific culture
Content: Watercolours and pastels.
Programme: Daily morning workshops of 3 hours
Suitability: All levels
Excursions and extras: Visit to waterfall, beach picnic, village visit
Food: Three meals a day.
What To Bring
Here's materials you'll need to bring.
Please note: We will be working in small format
Pastels (soft pastel or oil pastel)
A good set of soft pastels or oil pastels; artist quality is best
A pad of SANDED pastel paper
Small set of NuPastels or colored pencils
Pencil
A clipboard or support to tape sanded paper to
Roll of blue painter's tape or masking tape
Package of baby wipes
Wax paper to protect your paintings
The course
The course

The flights from the West Coast of the US arrive early in the morning and connect with the domestic flight to Savusavu. You'll be met at Savusavu airport and taken to Daku Resort which is 10 minutes drive. (NOTE: you cross the International Date Line so you leave on October 20th and "lose" a day – but you get it back on the way home. It's an overnight flight (11hrs) so you can get some sleep and greet the new day on arrival.) Once at Daku, there's time to relax over breakfast, perhaps have a swim, and be greeted with a traditional Fijian welcome ceremony. Although check-in is not until 2.00, we will do our best to have your rooms ready before – and in the meantime, you can relax in our main reception area or round the pool.
At 1.00 we'll gather round the table for a buffet lunch and Sandy will talk a bit about plans for the week. Then we'll go up to the stunning yoga platform which also doubles as an art studio: with its wonderful views of the bay it's a great place to start the journey. We'll do some preliminary sketches, talk about what you want to get form the week, and have a bit of fun with pastels and paints. Then we'll gather for a drink on the deck before dinner….and the rest of the week.
The full daily programme is set out in the Programme section.
Accommodation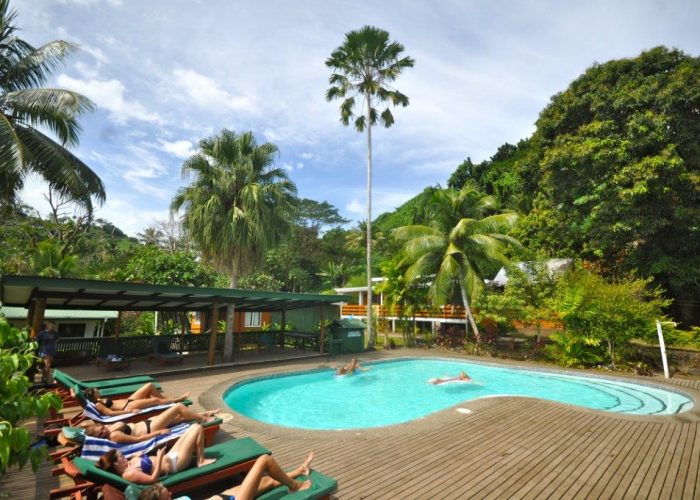 You'll stay with us at Daku Resort, Fiji.
Accommodation is packaged with your course, and there are a variety of comfortable lodgings available during your stay with us at Daku Resort.
More Information
Additional Adventures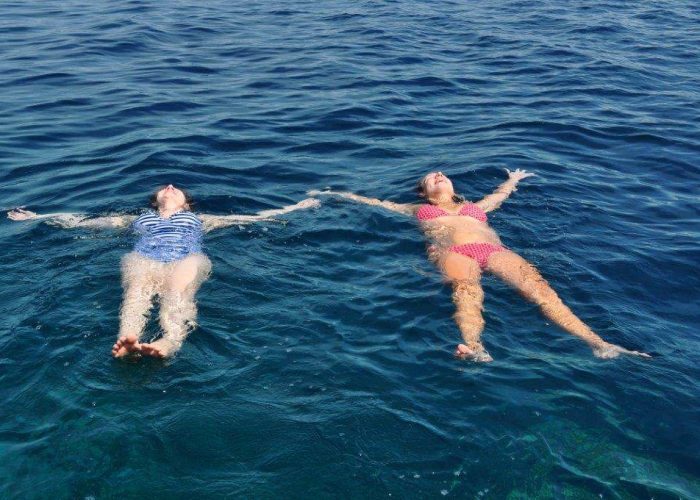 What to do in your free time.
We've arranged a number of excursions as part of the course (see Programme tab on the menu bar above). We also offer a range of other activities inside and outside of Daku Resort (please note that unless they are part of the programme, some activities, such as massages and those requiring equipment hire, may have additional costs).
More Information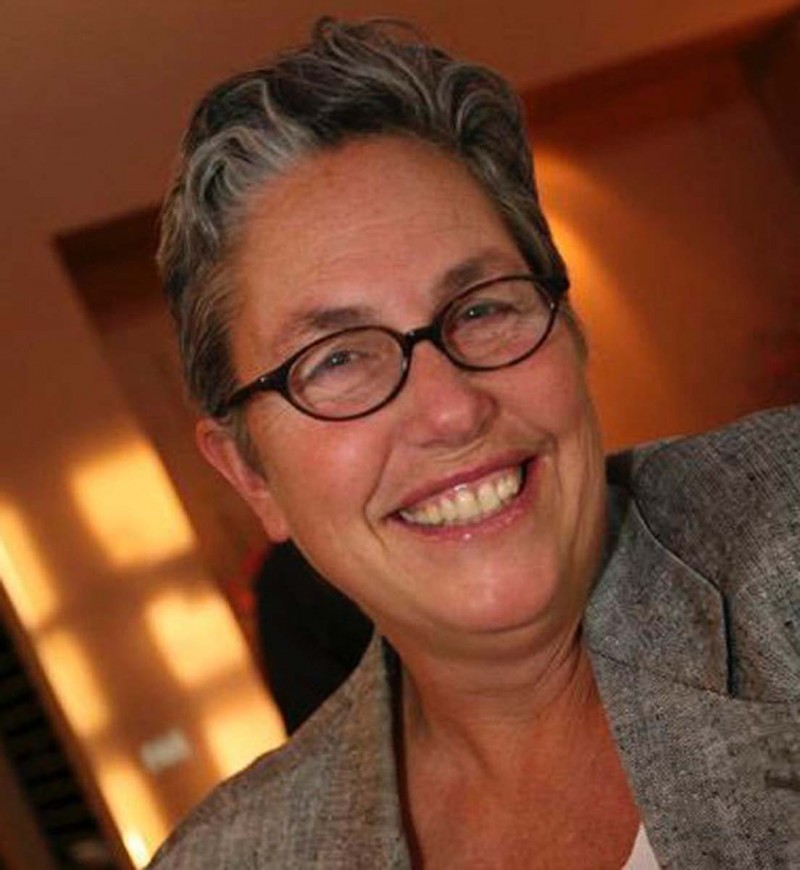 Meet Sondra Holtzman.
After attending Rhode Island School of Design and California College of the Arts, Sondra worked in San Francisco as a freelance designer, creating artwork for clients like Nike and Delta Air Lines. Together with friend and business partner Katie Wendel, they travel the world with small groups who happily indulge in fine food, fine wine and watercolor.
Sondra has been teaching art for over 30 years and paints in watercolor, oil and pastel, creating artwork with emphasis on a sense of place. For her, the true joy of being an artist also lies in the sharing of her passion with others, helping them to discover their own artistic voice.
More Information
Included

Accommodation

All Workshop Fees

Dining & Meals

Lectures & Excursions

Transfers from Savusavu Airport

Not Included

Alcoholic Beverages

Equipment & Supplies

Flights/Travel

Non-Course Activities

Travel Insurance
Arrive in Savusavu in the morning.
Breakfast and welcome ceremony
1.00 Lunch
Afternoon intro to the week
7.30 pm Dinner
9.00 am – 12.30 pm Workshop.
1.00 pm Lunch
Afternoon: Free time
7.30 pm Dinner
 Dinner
9.00 am – 12.00 pm Workshop
1.00 pm Lunch
2.00 pm Handicraft display and tapa making demonstration: some of the local women will come to display and sell their jewellery. One of them will give a demonstration of making tapa – the decorated Fijian bark cloth, and we hope you'll get your hands dirty and join in the decorating.
7.00 pm Dinner
 Dinner
9.00 am – 4.00 pm Full day out at Kasavu Village. This is a 50 minute drive up the coast, along the Hibiscus Highway with its beautiful views of the coastline. The village will be giving us a full day including: * voivoi weaving *walk around the village *lunch provided by the village women *walk on the beach – and of course, the chance to sit and paint as we go.
7.00 pm Dinner
 Dinner
9.00 am – 12.00 pm Workshop 
1.00 pm Lunch
2.00 pm Coconut demonstration
Late afternoon: Trip to Savusavu Town to see local market and shop. Savusavu town is a mile away – 5 minutes in a taxi. We will send you in by taxi and then leave you to wander round and then meet up for a sunset cocktail at the Yacht Club in town
7.00 pm Dinner
 Dinner
9.00 am – 12.00 pm Workshop 
1.00 pm Lunch – when we'll be joined by some of the local artists and have a chance to look at what they do and talanoa (exchange stories)
Trip to waterfall: this is about 25 minutes' drive and is a beautiful natural fall where you can plunge into the cool clear water and swim. We'll spend as long as you want there.
7.00 pm Dinner
 Dinner
9.00 am – 12.30 pm Workshop
1.00 pm Lunch
Trip to the beach (Devodara OR Bulikula) to walk / swim / sketch
7.30 pm Final Fijian dinner
 Final Fijian dinner
Fly from Savusavu back to Nadi International for your flight home.
Tour Location
Daku Resort, Fiji
Paradise Courses is hosted at Daku Resort, which is in Savusavu, Fiji.