Pacific Yogaflow with Deidre-Lee Allen: dates to be confirmed
per person
Pacific Yogaflow with Deidre-Lee Allen

Pacific Yogaflow – Yoga, adventure, experience and connection.
Step outside of yourself to connect within yourself.
Step outside of yourself to experience the beauty of Savusavu. Connect with the ocean, the river, the mountains, and the land. Deidre-Lee will take you exploring… this is her yoga, from the morning and evening practices in the stunning yoga shala at Daku Resort, to exploring beneath the sea, connecting with nature, making new friends, experiencing the warmth of the Fijian culture, and finding a deeper sense of peace and clarity within yourself.
Pacific Yogaflow is a unique blend of flowing yoga postures and deeply restorative stretches. Each session will allow you to go inwards o flow forward, become stronger, find balance, release and let go, bringing to your life a greater sense of peace.
Deidre-Lee Allen's Pacific Yogaflow sequences stretch the body and calm the mind; there is a strong focus on core stability and strength within each session and a positive attitude towards achieving balance and abundance in health and well-being.
During the week, you will work through a blend of flowing dynamic yoga postures and deeply restorative meditative yoga.
When developing the flowing movements of Pacific Yogaflow, Deidre-Lee aimed to create a practice that would connect us with our stunning elements:  the sky, the ocean, the earth and the land and thus become grounded, open to abundance, and calm in a world often so busy.
She brings a lightness and joy to each session, fully aware of the richness of the practice whilst never abandoning the laughter and fun that makes life so much more worthwhile.
Evenings will include a cocktail hour – both alcoholic and non-alcoholic drinks are served.
Daily Programme
The programme is structured around morning yoga sessions to bring flow and calm to your day, and afternoon sessions to unwind with. During your stay, you will also have plenty of time to enjoy a massage, snorkel, relax by the pool, or continuing to practice yoga by yourself or with friends.
There will be a buffet style dinner every night, and the bar will be open until midnight.
You can also arrange a massage during the week: just speak to reception to book an appointment.
Morning Sessions – 90min
PACIFIC FLOW
A warm flowing and dynamic session delivering strength, flexibility and absolute calm.
A strong focus on core strength from within, and a connection with nature. Your body will become strong and toned, your mind peaceful.
Afternoon Sessions – 90min
PACIFIC BLISS
Be exactly where you are at, allowing the gentle stretches within Pacific Bliss to take you deeper into a beautiful release, letting go and healing old injuries, soothing your mind. Connect within as you anchor down to find calm and peace.
Note: the order of workshops may vary depending upon weather conditions. The listed activities are part of the course and are covered by your fees. If you want to add on extra excursions, eg. diving, you are welcome to do so and they will be added to your bill.
Course Summary
Dates: to be confirmed
Teachers: Deidre-Lee Allen
Content: Vinyasa flow with Yin yoga
Programme: Twice daily practices; no practice on Thursday afternoon
Suitability: All levels from beginners to more experienced
Excursions and extras: Two snorkeling trips, visit to waterfall, beach picnic at the Blue Lagoon, village visit
Food: Three meals a day
Itinerary: Arrive Savusavu Saturday. Course starts morning Sunday, ends evening Friday. Depart Savusavu Saturday morning..
Pricing Information
Accommodation
Rear bure standard room:
Shared  room: AUD $2050
Single Ocean View bure room: AUD $2300
Front bure:
Shared  room: AUD $2200
Single Ocean View bure room: AUD $2550
Meet your instructor.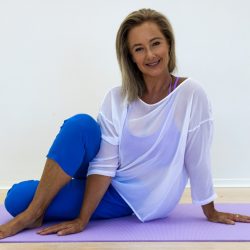 Meet Deidre-Lee.
Deidre-Lee studied Psychology at Victoria University, gaining an understanding of human behavior and giving  her time to look inward and forward on her journey of self-healing and work with others. As a child and through her early adult years Deidre-Lee was always dancing: she worked as a dancer, a model, and a choreographer. Her creative expression is in her spirit and is the Mauri (life force) which brings forth her love of movement to Pacific Yogaflow.
More Information
Included

Accommodation

All Workshop Fees

Equipment & Supplies

Lectures & Excursions

Meals & Drinks

Transfers from Savusavu Airport

Not Included

Flights/Travel

Non-Course Activities

Travel Insurance
On Saturday, you'll travel to and arrive at Savusavu. From there, we'll pick you up from the airport and transfer you to the Daku Resort.There will be a buffet style dinner every night, and the bar will be open until midnight.You can also arrange a massage during the week: just speak to reception to book an appointment.
6.00pm Welcome ceremony
7.00pm Dinner
7:30am - 9:00am Sunrise session.
9:00am Breakfast.
Free morning.
11:30am Picnic lunch at Devodara beach, return to Daku around 3:00pm.
4:30pm - 6.00pm Afternoon session.
7:00pm Dinner.
7:30am - 9:00am Sunrise session.
9:00am Breakfast
10.00 am Snorkel trip to Split Rock.
1:00pm Lunch
2:00pm Tapa making demonstration from local craftswomen - and a chance to try out your own skills at decoration the bark cloth.
4:30pm – 6.00pm Afternoon session.
7:00pm Dinner
7:30am - 9:00am Sunrise session.
9:00am Breakfast.
10:00am Excursion to Waisele waterfall. Reasonable level of fitness required, and make sure you have a pair of shoes you can walk in, like sandals with heel straps /trainers / joggers - NOT flip flops.
Return for a late lunch.
4:30pm - 6.00pm Afternoon session.
7:00pm Dinner
7:30am - 9:00am Sunrise session.
9:00am: Breakfast.
Free morning: – have a massage - go into town - visit the Flora Tropica Gardens with their marvellous collection of palm trees from around the world – visit the black pearl farm
1:00am Lunch
4:30pm - 6.000pm Afternoon session.
7:00am Dinner
7:30am - 9:00am Sunrise session.
9:00am: Breakfast.
10:00am Snorkel trip to uter reef
1:00pm Lunch
4:00pm - 6:30pm Excursion to local village to see the way of life.
7:00pm Dinner
7:30am - 9:00am Sunrise session.
9:00am Breakfast
Free morning: optional hike up the hill behind Daku Resort.
1:00pm Lunch
4:00pm – 5:30pm Afternoon session.
7:00pm Dinner
Tour Location
Daku Resort, Fiji