A Painted Diary : Nerida de Jong May 6 – 13, 2023
per person
Early Bird Special Offer:
Book before Feb 15 and receive a $200 discount.
When you make your booking, we will confirm receipt of payment of your deposit and will apply the early bird special to your final balance of payment invoice.
A Painted Diary - overview of the week's course
During the week, you will be learning to create a diary of paintings to illustrate your journey through life – and this can be woven around writing about your experiences as well.
The paintings are done on water colour paper, preferably hand made and later put into the large book as a diary. Of course, the paintings are works on their own and students may well prefer to use them in other ways like framing and hanging them.
Each morning is spent in a three hour workshop painting and creating, We will do some of this in the comfort of Daku Resort's Yoga Shala with its breathtaking views over Savusavu Bay, but at other times we will go out on location to various parts of the island to see the Fijian countryside, beach, villages, and people. All of this makes for rich and interesting painting subjects.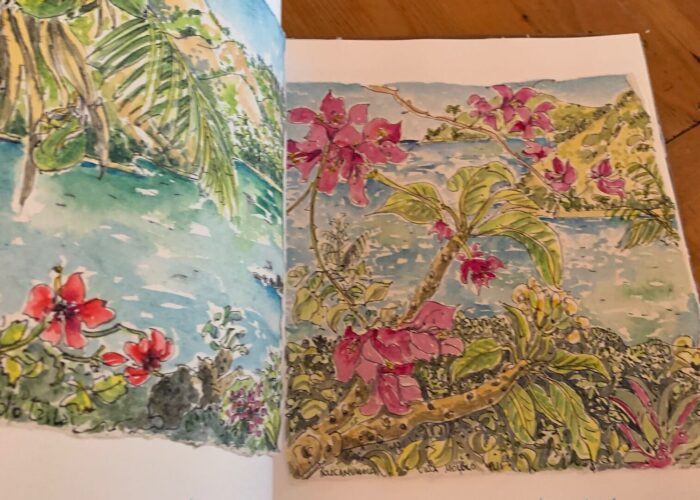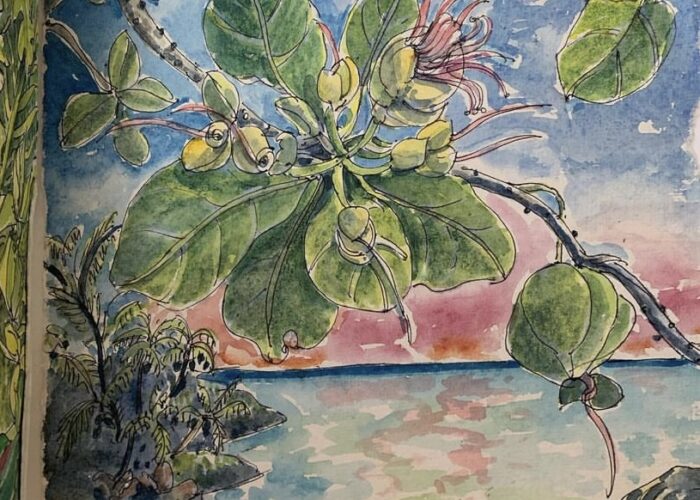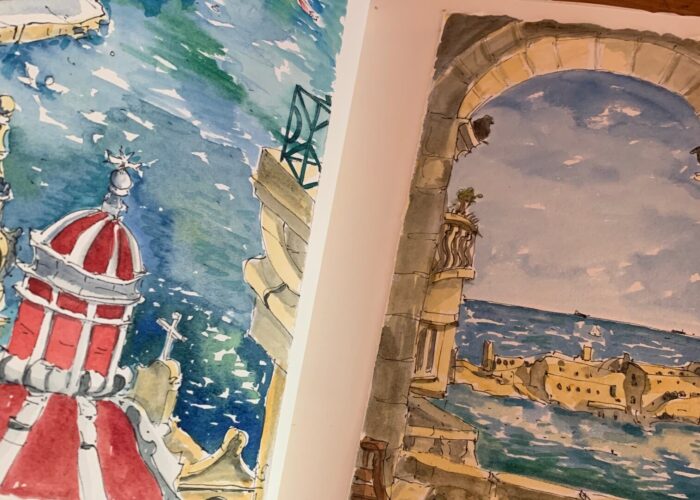 Summary & Pricing
Title: A Painted Diary: watercolours
Dates: May 6 -13,  2023
Style: Watercolours
Programme: Daily morning workshops; afternoon excursions and free time.
Excursions and extras: All meals, and excursions as listed in the programme.
Food: Mixed menu.
Itinerary:  Arrive Savusavu Saturday May 6. Course starts May 7, end evening May 12. Depart Savusavu May 13.
Price:
Standard room: shared is $2550, single $2950.
Ocean view bure shared $2890, single $3390
What To Bring
AQUARELLE ( water colours)
Lemon yellow
Chrome yellow
Yellow Ochre
Raw Umber
Burnt Umber
Burnt Sienna
Cadmium Red
Magenta
Alizarin Crimson
Ultramarine Blue
Pthalo Blue
Prussian Blue
Turquoise
White GOUACHE
BRUSHES
Water colour soft brushes sizes
4, 6, 10.
( and any others the artist prefers or uses)
Black permanent ink pen such as
uni P/N Fine line…… 0.5 or 0.8
PAPER
I like a medium gauge hand made paper with the rough edge
This can be bought at any good Art Supply shop . e.g. In Byron Bay
" Still @ the Centre Arts"
3 Centennial Close
Here there is a good selection and the best come from India
Clip folder or board and clip
A4 size or similar
For extra paper as in A4 Visual diary
The actual large diary does not need to be purchased yet as we will discuss this during the course.
Accommodation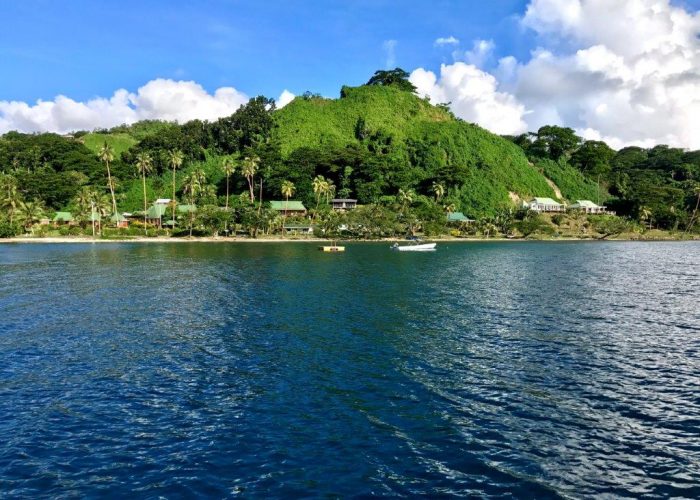 You'll stay with us at Daku Resort, Fiji.
Accommodation is packaged with your course: we are offering a choice of standard rooms in our rear bures, or ocean view bures at the front .We have a number of two and three bedroom houses and villas so if there are a small group, we can quote you on those.
More Information
Additional Adventures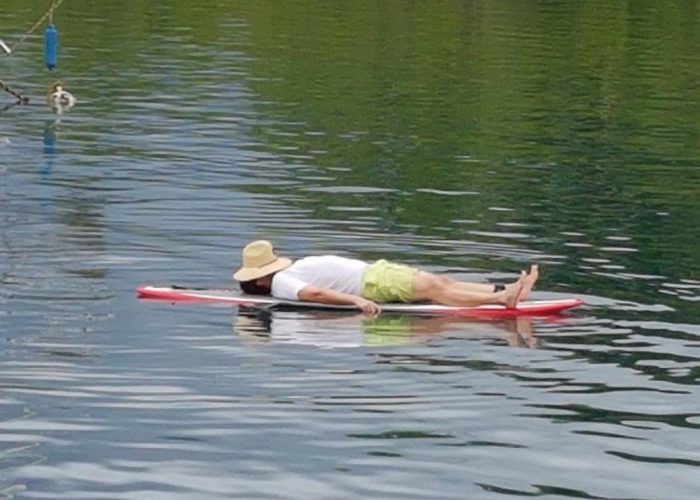 What to do in your free time.
We've arranged a number of excursions as part of the course (see Programme tab on the menu bar above). We also offer a range of other activities inside and outside of Daku Resort (please note that unless they are part of the programme, some activities, such as massages and those requiring equipment hire, may have additional costs).
More Information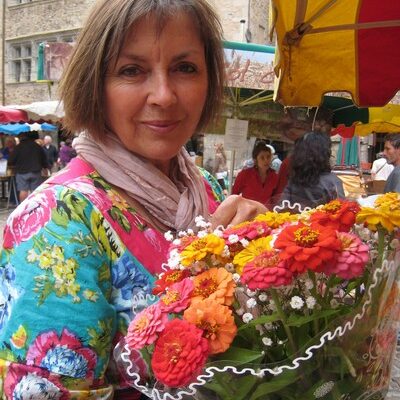 Meet Nerida de Jong.

Artist Nerida de Jong captures the essence of her life experiences in the rich, vibrant colors of her acrylic paintings. Her style is very natural with brush strokes flowing organically. Her attention to intricate and beautiful detail brings a reality to her work that draws you into the painting allowing you to share those experiences with her.
Her paintings tell real life stories. "My works are just what they are—explanations of what's happening around me at a particular time," de Jong explains.
Remembering the passion for drawing and painting that she felt from the age of three, the Australian Artist Nerida de Jong has spent much of her life in some of the most beautiful corners of the globe, from the exotic Cook Islands and Fiji, to provincial France and now to the breathtaking Greek Islands. These idyllic locations called "home" over the years continue to have a great influence on her artwork today.
De Jong's work is represented in galleries in a variety of countries and in many private collections throughout the world.
More Information
Included

Accommodation

All Workshop Fees

Dining & Meals

Lectures & Excursions

Transfers from Savusavu Airport

Not Included

Alcoholic Beverages

Equipment & Supplies

Flights/Travel

Non-Course Activities

Travel Insurance
Arrive in Savusavu.
6.00 pm Traditional Fijian welcome ceremony
7.30 pm Dinner
9am - 12:30pm: Workshop
1pm: Lunch
Afternoon: Free time
7:30pm: Dinner
9.00 am – 12.30 pm Workshop
1.00pm Lunch
Visit from local craftswoman and tapa making demonstration followed by trip to Savusavu Town to see local market and shops. We'll take you there in a taxi, and then leave you to wander around and find your own way back (taxis cost approx F$4.60).
7.00 pm Dinner
• 9.00 am – 12.30 pm Workshop • 1.00 Lunch • 4.00 pm Visit to local village - a chance to see village life and enjoy the meke dance. Bring along your sketch book (of course). • 6.30 Talk on J Hunter Pearl farm, the local black pearl farm - illustrated talk with slides 7.00 pm Dinner
• 9.00 am – 12.30 pm Workshop • 1.00 pm Lunch• 2.00 Trip to waterfall • 7.30 pm Dinner
• 9.00 am – 12.30 pm Workshop: • 1.00 pm Picnic lunch at the beach • 5.00 pm Visit to Savusavu Yacht club for a sundowner. • 7.30 pm Dinner
• 9.00 am – 12.30 pm Workshop: • 1.00 pm Lunch • Afternoon: Free time for optional activities • 5.00 Art show and tell - review of the week • 7.30 pm Dinner
Breakfast and departure.Fly from Savusavu back to Nadi International flight home.If your flight is in the afternoon, you can have lunch at Daku. Check-out time is at 10.00am but you are welcome to leave your bags in reception.
Tour Location
Daku Resort, Fiji
Paradise Courses is hosted at Daku Resort, which is in Savusavu, Fiji.