ErinHill Travel Sketching with Erin Hill
Finding beauty in the everyday through sketching.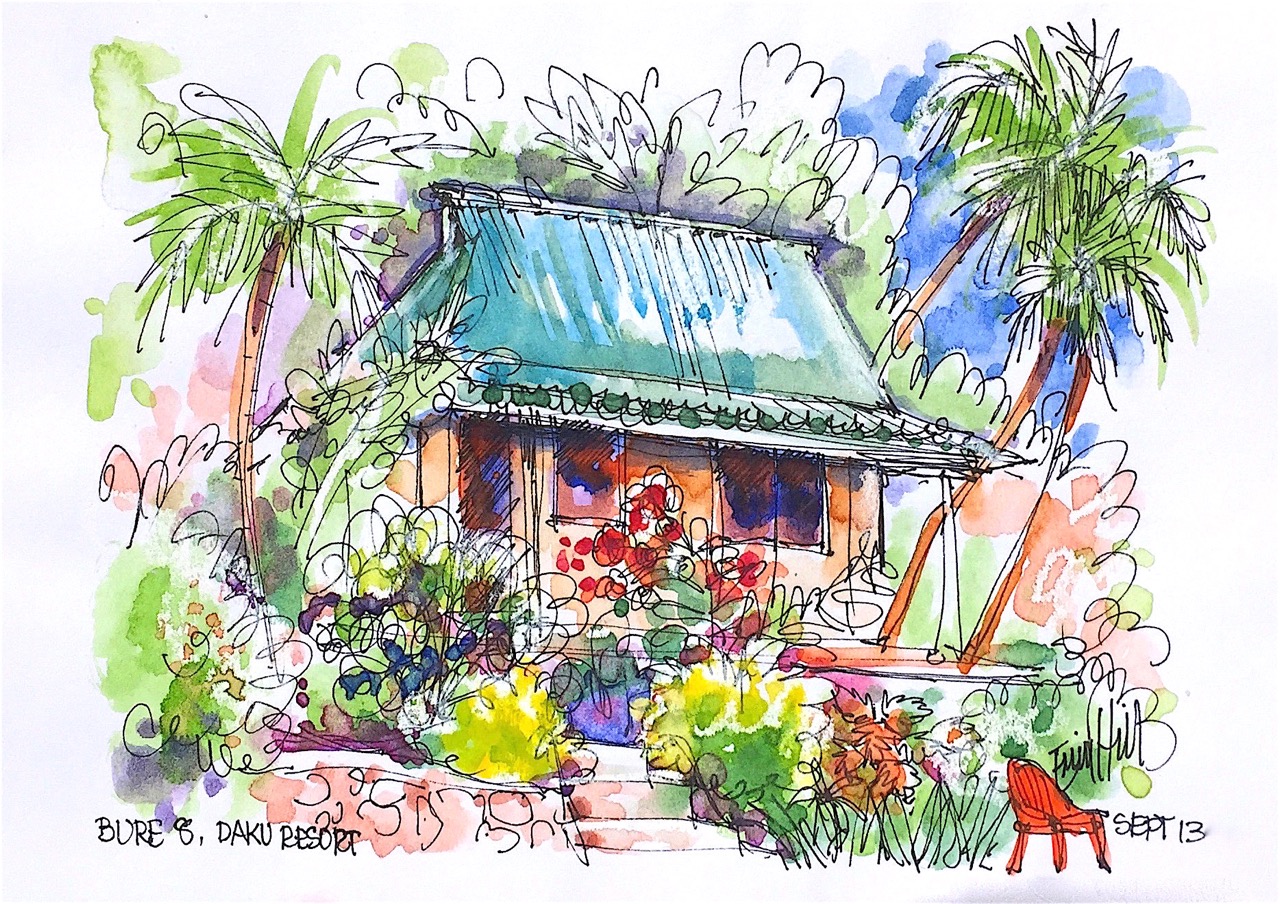 ErinHill travel sketching — a unique system designed to teach anyone how to Travel Sketch in a very short time. Step by step you learn to observe and sketch the world around you in whatever time you have available. That quick impression anywhere, anytime and anything. This course is suitable for all levels, from new to experienced.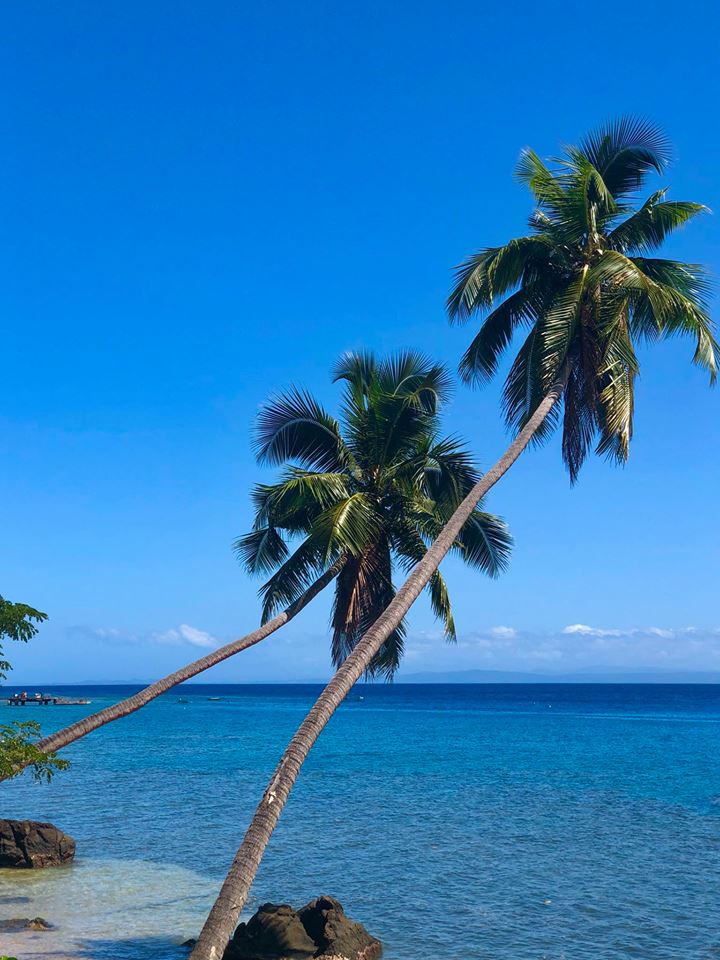 COURSE CONFIRMED.
Retreat Summary
Dates: October 12 -19 2019
Teacher:  Erin Hill
Title: Travel Sketching
Content: Travel Sketching in pen, watercolours or watercolour pencil.
Programme: Daily morning workshops of 3 hours
Suitability: All levels
Excursions and extras: Visit to waterfall, beach picnic, village visit
Food: Three meals a day; Fijian, Indian and International menu
Itinerary: Arrive Savusavu Oct 12. Course starts morning Oct 13, ends evening Oct 18. Depart Savusavu Oct 19.
Cost per person:
Twin Shared standard room: AUD $1950
Single standard room: AUD $2250
Non-painting partners standard room: AUD $1075
Twin Shared Ocean View Bure room: AUD $2050
Single Ocean View bure room: AUD $2400
Non-painting partners Ocean View bure: AUD $1200
Sketching i

s that quick impression, using a black pen, done in a moment with a dash of colour. We teach you to sketch in whatever time you have. This is why we call it Travel Sketching. Five minutes? Thirty minutes? You can always get an impression. After all, it may be the only chance you'll have. ErinHillSketching shows you exactly how to achieve that skill and precisely what to look for when on holiday. 

It's about getting in touch with your intuitive side, rather than your analytical side. When we impose a time limit you don't get to labour your sketch, rather you get straight to the essence, without 'thinking' about it. The pen takes over, not the brain. This is a magic moment. You have become free. You've let go.

 Too much of today's life is about reasoning and logic. We help our pupils get in touch with their creative side. That is why so many of our students say they see the world differently and now are confident in other aspects of their lives. This underlines EVERYTHING we teach. Some people call this Mindfulness. We call it Travel Sketching.
There will be a three hour workshop every morning with free time in the afternoon to relax, go on excursions or continue sketching at your own pace. If you haven't sketched with us before, you begin here. Anybody can learn to sketch with the ErinHill system. You may or may not have previous art experience, but this is where you start your journey. Leave your fears at the door. We will show you step by step how to go about it. And for our regular and long term sketchers, we play with a number of mediums with our sketches to create exciting effects. We also work on creating a journal of your adventures so that you'll always have a memory of your special times and places.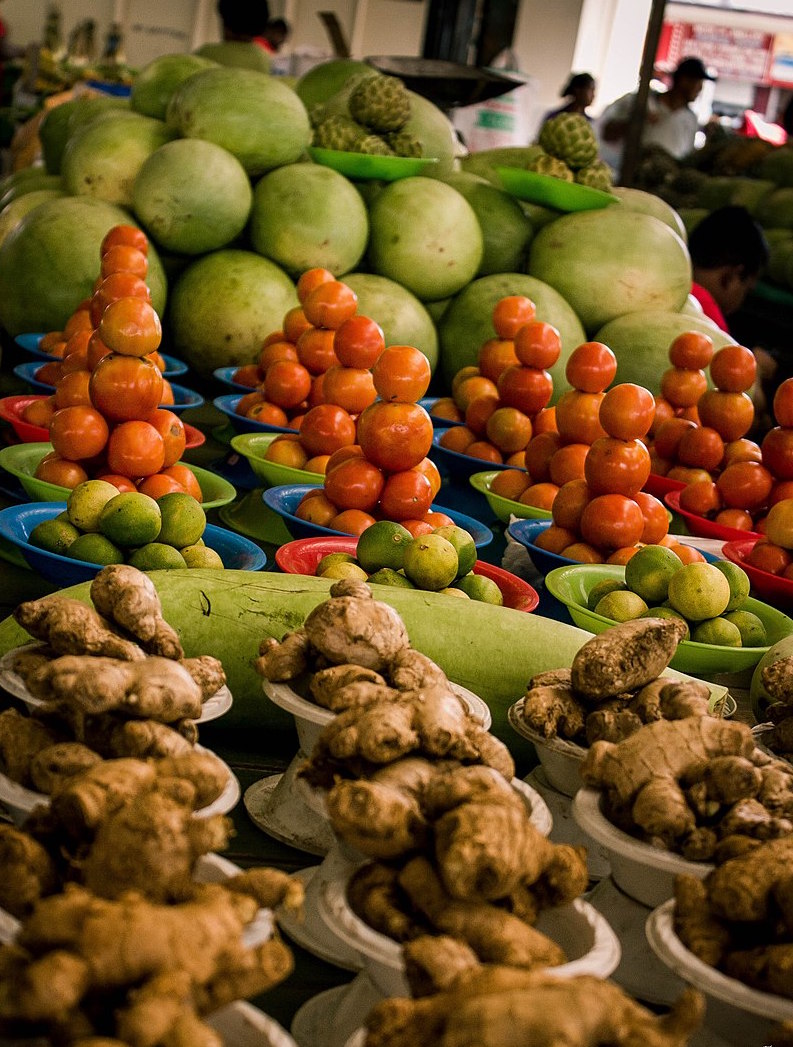 Fiji and the Daku Resort was wonderful, relaxed, welcoming, great accommodation with excellent food, what else would you want? Yes, we had it all, a great teacher who imparted her knowledge so freely and with so much fun!! Thank you Erin you are "tops" and that delightful man of yours, Milton for his care and support. I had a wonderful holiday and looking forward to doing it again…Oops!! and the lovely group of "girls" a fun bunch of people
Thank you for including me in your fantastic week of sketching at Daku Resort, Savusavu, Fiji. I have thoroughly enjoyed it and feel so lucky to have had this opportunity to learn with you, and what can be achieved by putting pen to paper. I didn't envisage the results I got – amazing. This week has been a very special time for me. So thank you Erin for your time, patience and zest.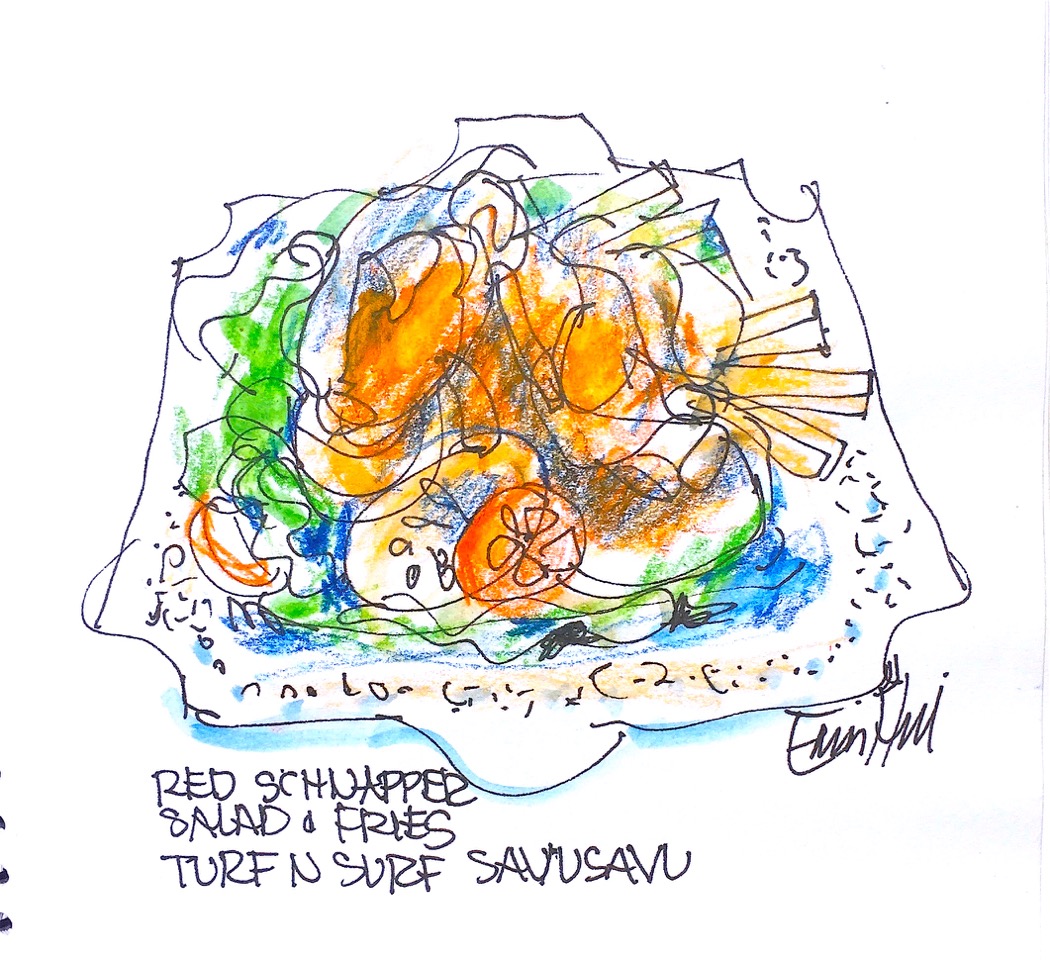 About your Teacher : find out more
Daily Programme: see what you'll be doing each day
HOW TO BOOK:
If you want to book for 2 (or more) people attending the course, please
Choose whether you both want a twin shared room or a single room
Then select 2 (or 3 / 4 etc as appropriate) on the button which says "Add to cart".
If you want to book for yourself plus a non-participating partner, please select "Travelling with a non-participating partner". The next stage will automatically calculate the price for that option.
7 nights accommodation at Daku Resort in traditional bures with private facilities.

Breakfasts, lunches and dinners.

Workshop fees.

Lectures and excursions as indicated.

Airport transfers from Savusavu Airport to Daku Resort by road (approx 10 minutes).
Travel to Savusavu.

Comprehensive Travel Insurance.

Optional activities not listed on the program.

Costs of a personal nature such as laundry, massages, private trips.
Erin Hill: Founder of ErinHill Sketching
Sketch tutoring is my passion.
I've sketched all my life. From my background as Art Director in major Ad Agencies, graphic design, fine art and illustration, I've pared down the essentials to create the ErinHill Travel Sketching System which we use in all our Schools.
Of course I always painted, drawn and illustrated as well. But sketching is where I've come back to. When ErinHill Studio opened in 2011, we began with a small class  of people keen to learn to sketch. Many of those students continued every term and as classes grew, have become tutors with the school. As more students discover us, we train new tutors to share our particular brand of travel sketching.
Students need a clear and positive way of learning and the foundation skills of ErinHill Travel Sketching do just that. In a short time people are sketching something around them and feeling delighted. Hardly believing that they're sketching in their first lesson.
Daily Programme
The programme is structured around morning workshops with afternoons for activities and free time to enjoy a massage, snorkelling, relaxing by the pool or continuing to sketch.
Saturday
Arrive in Savusavu.
6.00 pm Welcome ceremony
7.30 pm Dinner
Sunday
9.00 am – 12.30 pm Workshop
1.00 pm Lunch
Afternoon: Free time
7.30 pm Dinner
Monday
9.00 am – 12.30 pm Workshop
1.00 pm Lunch
Afternoon: Trip to Savusavu Town to see local market and shops
7.30 pm Dinner
Tuesday
9.00 am – 12.30 pm Workshop 12.30 Picnic lunch at Devodara beach Return to Daku approx 3.30.6.30 Pearl farm talk with slides 7.00 pm Dinner
Wednesday
9.00 am – 12.30 pm Workshop
1.00 Lunch
2.00 Trip to waterfall
7.00 pm Dinner
Thursday
9.00 am – 12.30 pm Workshop
1.00 pm Lunch
Afternoon: Free time for optional activities
4.00 pm Visit to local village
7.30 pm Dinner
Friday
9.00 am – 12.30 pm Workshop
1.00 pm Lunch
7.30 pm Final Fijian dinner
Saturday
Fly from Savusavu back to Nadi International flight home