Dynamic and restorative Yoga with Carol Knaap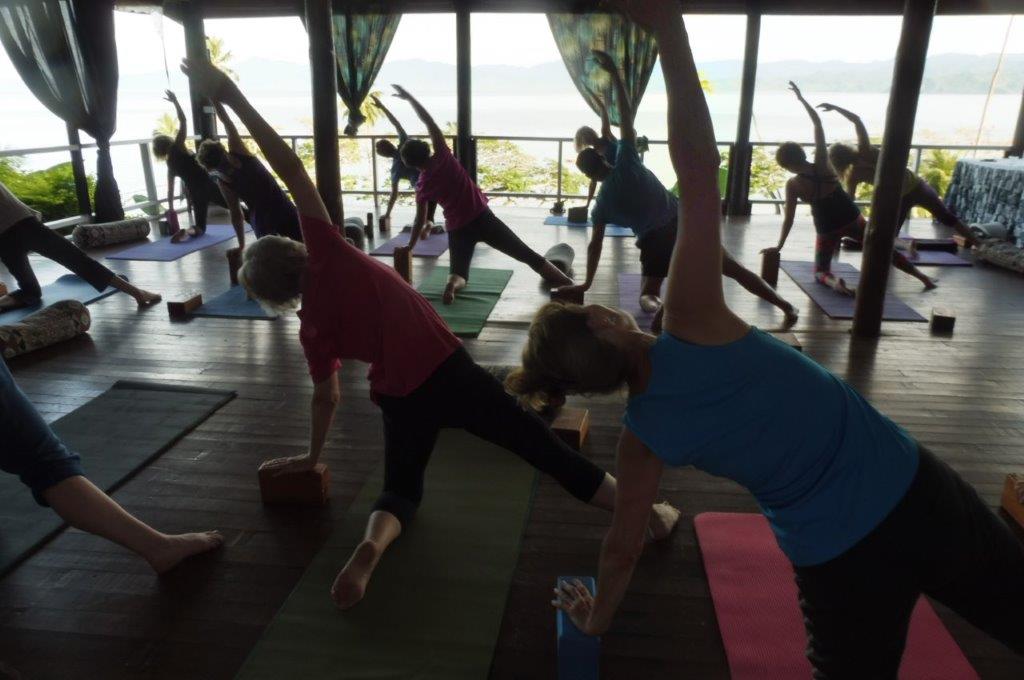 A week of morning dynamic vinyasa and afternoon gentle restorative yoga.
Retreat Summary

Dates: August 17 – 24 2019
Style: Hatha Vinyasa, Yin & Restorative Yoga
Programme: Two daily workshops(except on Thursday afternoon).
Suitability: All levels
Excursions and extras: Beach picnic, hiking behind Daku resort, traditional village visit, tapa making demo.
Food: Mixed menu
Itinerary: Arrive Savusavu Aug 17. Retreat starts Sunday morning Aug 18, ends Friday evening Aug 23. Depart Savusavu Aug 24.
Food: Three meals a day
Cost: from AUD $1850 twin room / AUD $2250 single room
Yoga has been practiced for more than 5000 years and is constantly evolving. In the practice of yoga today, we move in a way that is rooted in anatomy and Yogic science, meeting us where we are. The very essence of yoga lies in attaining mental peace, improved concentration and living in harmony with others and ourselves.
Yoga gives us a chance to slow down, pay attention, savour where we are now and the steps we have taken to get here.  Escape the stressors of life.  We learn the value of time for ourselves. There are many benefits, such as improving physical strength and mobility, cultivating mindfulness, managing stress and finding peace of mind and happiness.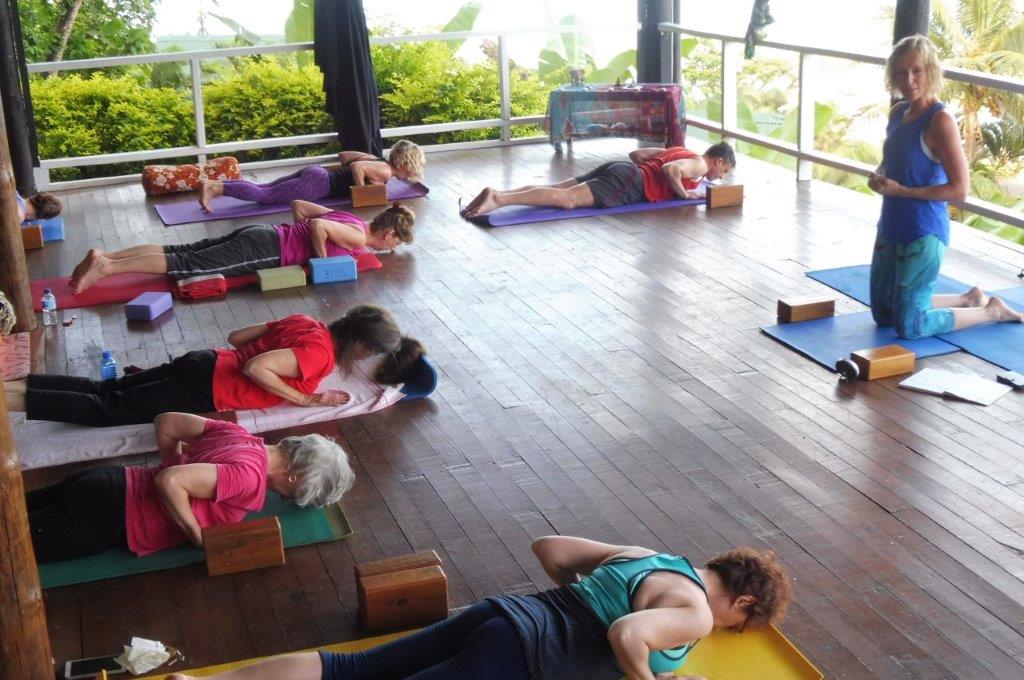 Morning Vinyasa: this class will strengthen and help to create more freedom of movement in your body. Working with your unique body to find your alignment, learning to search for steadiness and ease in each pose, awakening and preparing you for your day ahead.
Each class will have a strong emphasis "on the breath", helping you to be more present in your breath and your body.  Going deeper into understanding Yoga and how your body responds.  Learning to honour your whole being, its strengths and weaknesses. Most important is that you have fun and enjoy your practice. Finally, Carol will leave you with a take home practice that you can integrate into your life.
Afternoon Workshops
 The workshops will be a combination of discussion and a Yin/Restorative practice that complements the topic, exploring different yogic techniques and discovering some of the deeper aspects of Yoga.
Yin yoga: a simple peaceful practice of long-held floor poses. These poses apply a moderate stress to the connective tissue, ligaments, tendons and fascia with the aim of increasing the health and mobility of our joints, tissues and organs. This practice also passively stimulates the meridian lines. We immerse ourselves in the mystery of silence, contemplation, discomfort, ease, grace and everything in between.
Blissful Restorative: gentle restful practice to soothe and nourish you on many levels. Coming into mild variations of classic poses with a focus less on stretching and more on releasing tension.  Completely supported by using blankets, bolsters etc and staying for longer periods of time.  An invitation to just breathe, relax and enjoy the wonders of the present moment.
Yoga for Stress Relief; our modern, fast-paced lifestyles can lead to physical and emotional stress affecting our health, posture, breathing and contributing to tension, aches and pains.   A remedy for stress is relaxation and Yoga can play an important role in reducing stress.   We will prepare the body to relax and relax deeply.
The 8 Limbs of Yoga; Looking at yogic principals that are suggestions for living a better life, enhancing our way of being.  You can take almost any situation in life and consider it from the point of one or more of the Yamas and Niyamas.
"Yoga is the journey of the self, to the self, through the self " The Bhagavad Gita
Yoga

Cost and Booking
About your Teacher : find out more
Daily Programme: see what you'll be doing each day
HOW TO BOOK:
If you want to book for 2 (or more) people attending the course, please
Choose whether you both want a twin shared room or a single room
Then select 2 (or 3 / 4 etc as appropriate) on the button which says "Add to cart".
If you want to book for yourself plus a non-participating partner, please select "Travelling with a non-participating partner". The next stage will automatically calculate the price for that option.
7 nights accommodation at Daku Resort in traditional bures with private facilities.

Breakfasts, lunches and dinners.

Workshop fees.

Excursions as indicated.

Airport transfers from Savusavu Airport to Daku Resort by road (approx 10 minutes).
Travel to Savusavu.

Comprehensive Travel Insurance.

Optional activities not listed on the program.

Costs of a personal nature such as laundry, massages, private trips.
Carol has been practicing yoga since 1996 and started teaching Yoga in 2003. With a background in the Health and Fitness industry since 1990 teaching a variety of exercise classes for all ages, she developed a passion for keeping the body/mind healthy through exercise and yoga. After discovering yoga she soon realised the balance that yoga could bring to your body, mind and your life.  Yoga is now so much more than a physical practice on a mat, it is a way of life.
Carol currently teaches Vinyasa Yoga, Prenatal Yoga, Restorative and Yin Yoga. Her classes are designed to nurture and inspire "every body", from newcomers to the experienced yogi.  Dedicated to providing a safe and encouraging space to explore all that yoga has to offer in an authentic and heart felt way.  She teaches in the Sydney inner west area with a large client base of all ages and experience.  Carol's teaching experience allows her to modify the practice for those just starting out and those with injuries.
She focusses on the yoga part of the "Yoga Mindfulness Meditation Science".
Saturday
Arrive at Daku Resort
6:00pm  Welcome ceremony
7:00pm  Dinner
Sunday
7:30am- 8:30am  Yoga
9:00am  Buffet breakfast
1:00pm  Lunch at Daku Resort
Free time: relax, explore the gardens, snorkel outside the resort, take a kayak out.
4:00 – 5:00pm  Yoga
6:00pm  Happy Hour (relax, swim, free time or drinks)
7:00pm  Dinner
Monday
7:30am- 8:30am  Yoga
9:00am  Buffet breakfast
Late morning: Trip to Savusavu Town to see local market and shops. We put you in cabs to get into town and then leave you to wander around at your own pace, and let you take a cab (Aus$3), or walk back, when you've had enough.
1:00pm  Lunch at Daku Resort (unless you wish to stay on in town and eat there).
4:00 – 5:00pm  Yoga
6:00 pm  Happy Hour (relax, swim, free time or drinks)
7:00pm  Dinner
Tuesday
7:30am- 8:30am  Yoga
9:00am  Buffet breakfast
11.30am  Visit to Devodara beach and picnic lunch
Return to Daku around 3.00pm
4:00 – 5:00pm  Yoga
6:00pm  Happy Hour (relax, swim, free time or drinks)
7:00pm  Dinner
Wednesday
7:30am- 8:30am  Yoga
9:00am  Buffet breakfast
11:15 – 12:45am   Mindful hike up the hill behind Daku (optional). This is a steep hill winding up though magnificent rain trees with some beautiful views at the top.  (Trainers or closed-in shoes required).
1:00pm Lunch
2.00pm  Craft display and tapa (Fijian decorated bark cloth) making demonstration
4:00 – 5:00pm  Yoga
7:00pm  Dinner
Thursday
7:30am- 8:30am  Yoga
9:00am  Buffet breakfast
1:00pm  Lunch
4.30 Visit to local village and meke dance display  (no yoga / meditation practice)
6:00pm  Happy Hour (relax, swim, free time or drinks)
7:00pm  Dinner
Friday
7:30am- 8:30am  Yoga
9:00am  Buffet breakfast
1:00pm  Lunch
4:00 – 5:00pm  Yoga
6:00pm Happy Hour (relax, swim, free time or drinks)
7:00pm  Dinner
Saturday
Fly from Savusavu back to Nadi
International flight home